If you shy away from cooking, or even eating, seafood, you're doing yourself a serious disfavor. The health benefits of fish have been well known in the fitness community (and the whole world) for many years. Fish is full of lean protein, one of the best sources of Omega-3 Fatty Acids and many nutrients such as Vitamin D. Not only is it packed with omega 3 fatty acids, it's also a great low-calorie source of quality protein. In fact, fish (and other seafood) is one of the best things you can eat if you're looking to lose fat and build muscle. What's more: It tastes great (Blackened Thai Salmon anyone?) and it's easier to prepare and cook than you probably think.
Just a couple servings of seafood every week can make a difference, and thankfully, there's a lot more to seafood than fish sticks, tuna salad, and fried filets.
The different types of fish, such as salmon, cod, haddock etc help keep things interesting, as they all have different textures and flavours and they all take on different flavours and ingredients in a unique way. There are also many interesting cooking techniques for fish which can help keep your diet fun!
Here's Part 1 of the 50 most healthy fish recipes that are protein packed and full of flavour that can fit into any weight loss diet. Enjoy these for lunch or dinner to help spice up your diet plan!
Baked Cod with Blood Orange, Fennel and Olives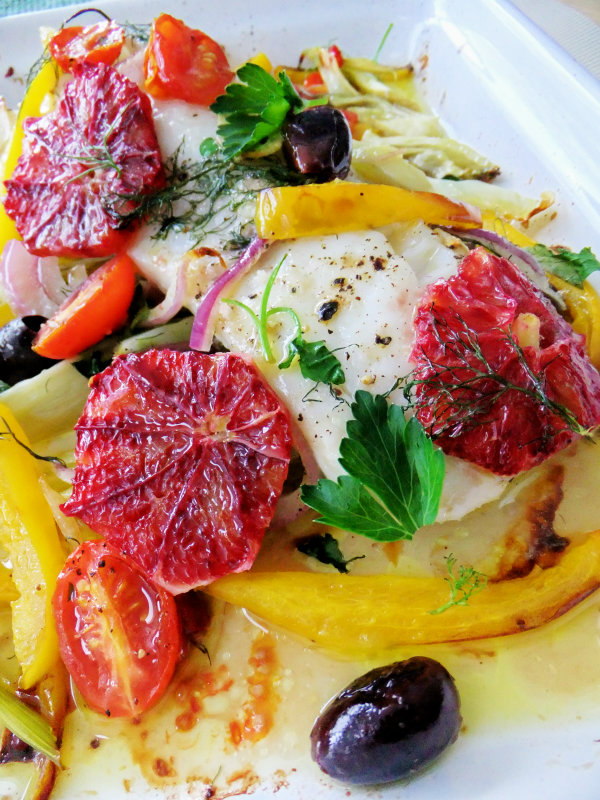 "The mild sweetness of the fennel and peppers, the citrus flavor from the oranges, the briny olive taste, the juice from the tomatoes along with the garlic and onions, I promise you'll be smacking your lips!"
Recipe: ProudItalianCook.
Orange and Fennel Roasted Cod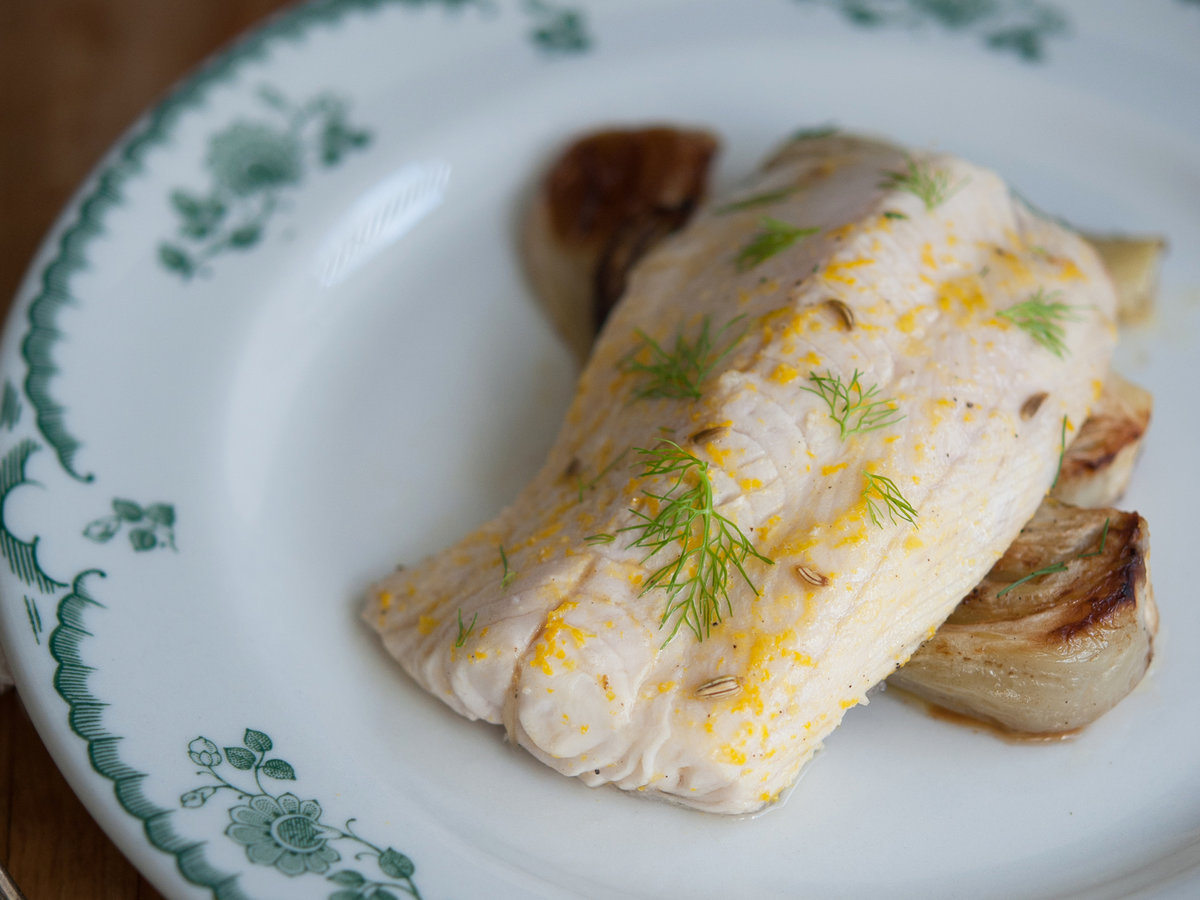 "Fennel lovers get a triple treat with these cod fillets: The fish is anointed with a fennel-seed marinade, roasted on a bed of fennel bulbs, and then sprinkled with chopped fennel fronds before serving."
Recipe: foodandwine.com
Crispy Honey Orange Glazed Salmon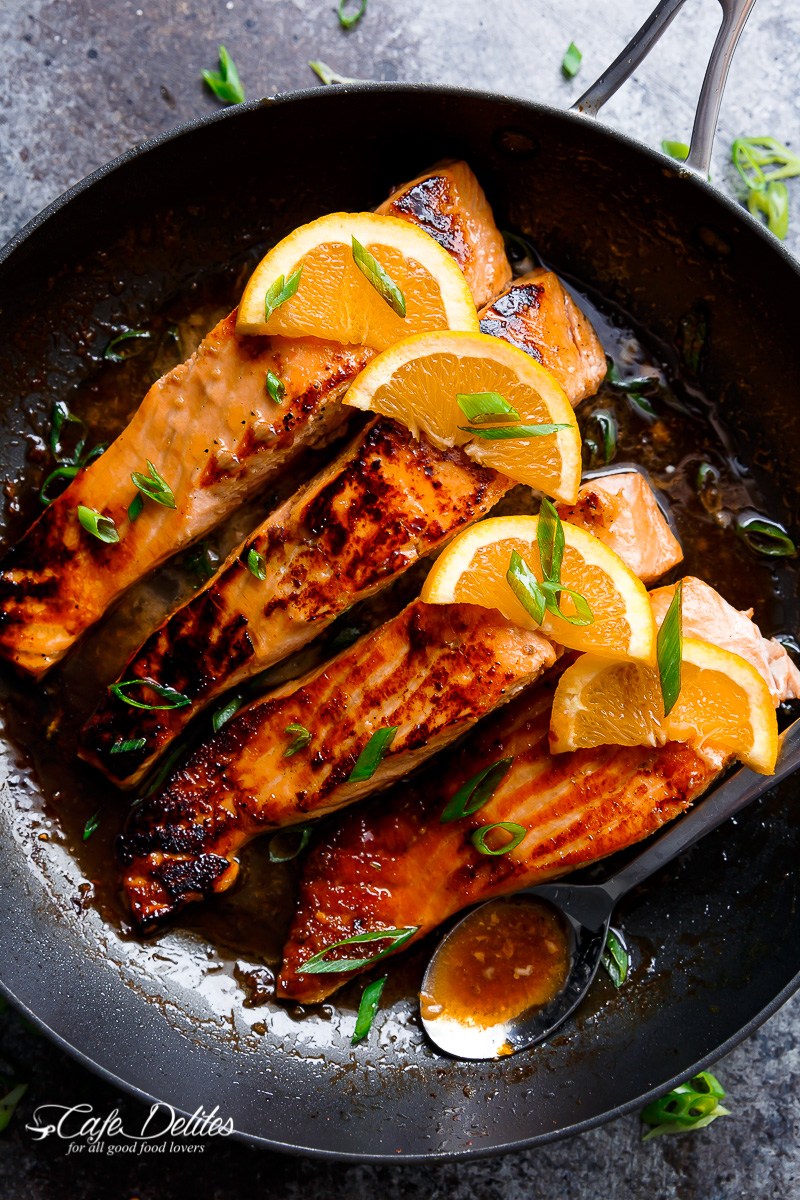 "Crispy Honey Orange Glazed Salmon Fillets are pan-fried in the most beautiful honey orange garlic sauce, with a splash of soy for flavour."
Recipe: cafedelites.com
Spicy Shrimp And Broccoli Mash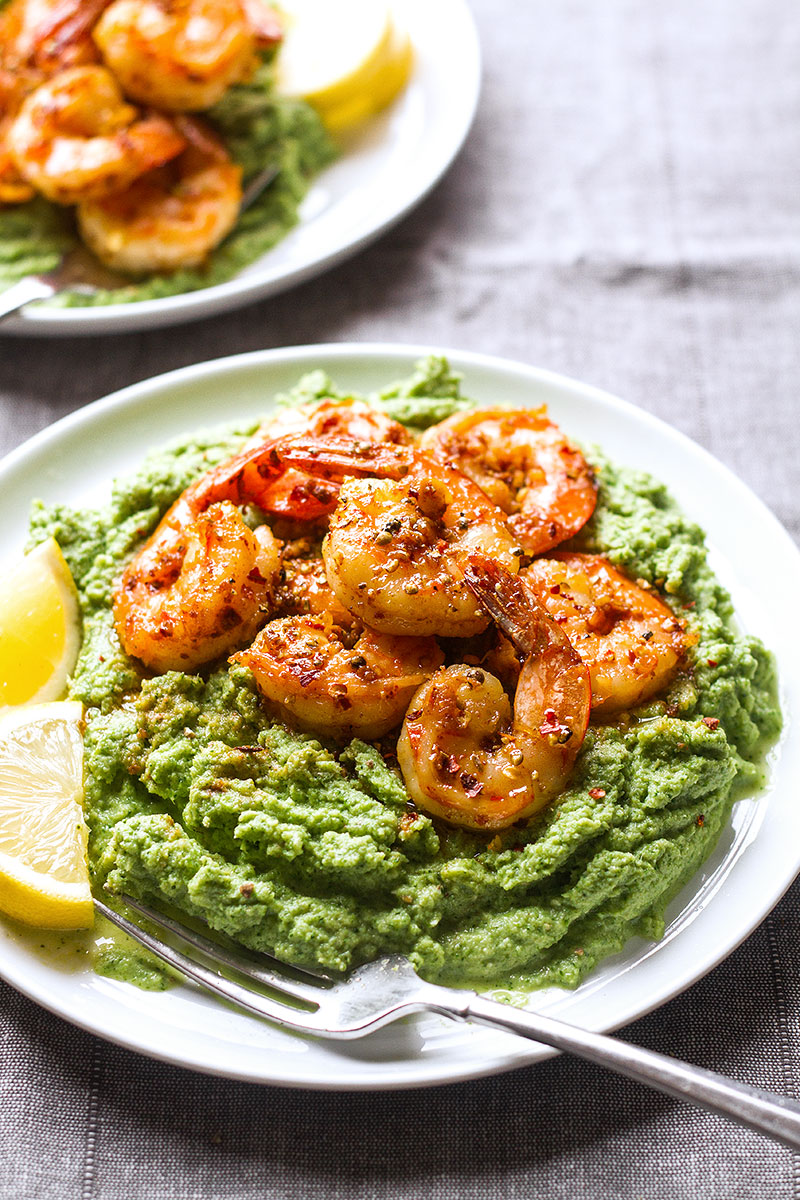 "Spicy Shrimp and Broccoli Mash — Packed full of flavor, this low carb, paleo dinner will blow you away. Spicy, savory shrimp are cooked just right, until they're perfectly tender, and served on top of a creamy broccoli mash specked with parmesan. Dinner's ready!".
Recipe: EatWell101.
Garlic Parmesan Crusted Salmon And Asparagus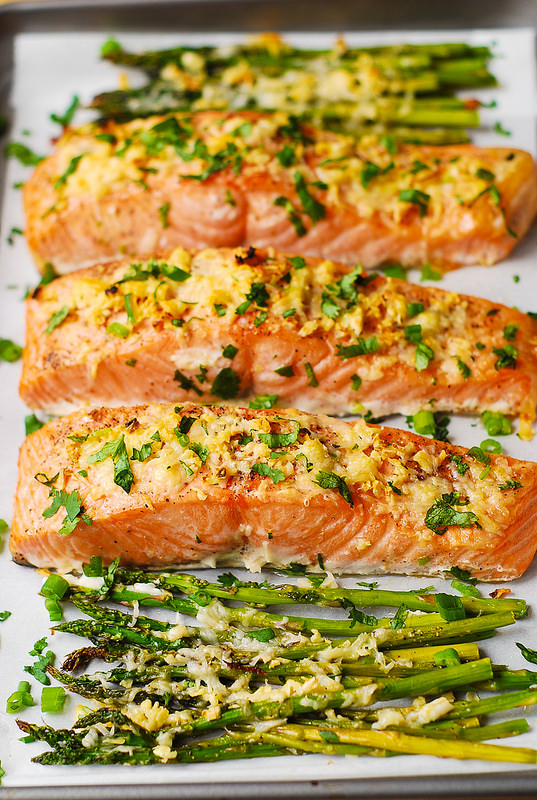 "Garlic Parmesan Crusted Salmon and Asparagus – the best way to cook salmon with just a few easy ingredients! Delicious, healthy dinner that is naturally gluten free!"
Recipe: juliasalbum.com
Keto Calamari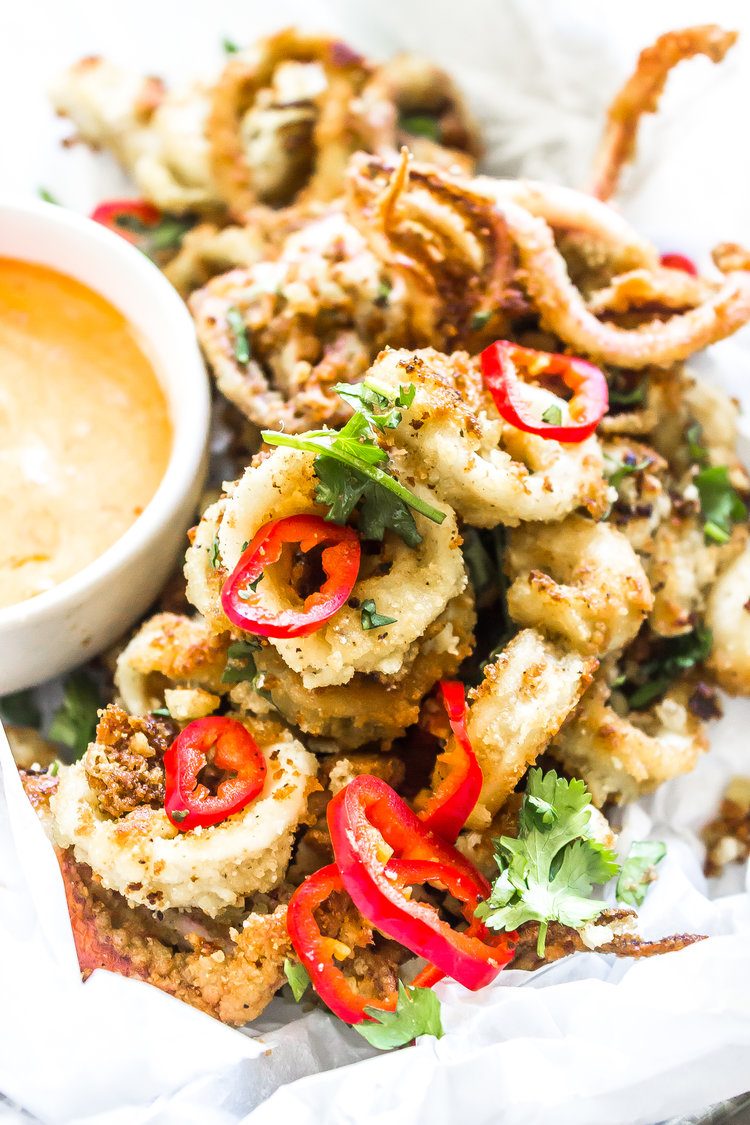 "This keto calamari is easy, delicious, and perfect as a fun appetizer or salad topper.".
Recipe: CastIronKeto.
One Pan Salmon, Sweet Potatoes & Asparagus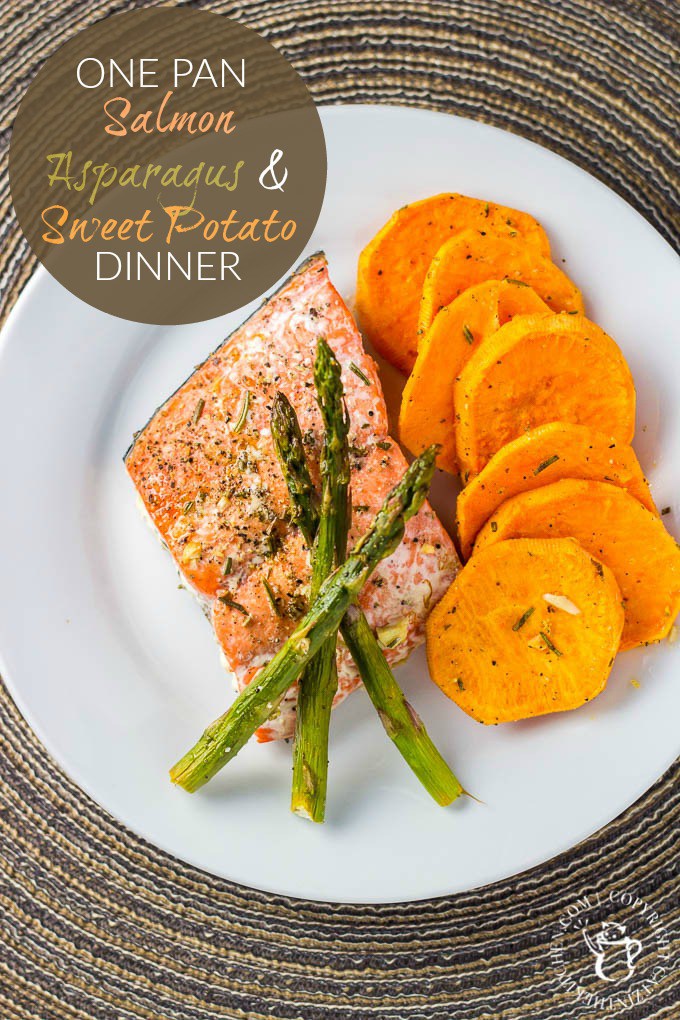 "Sometimes you need a superfood fix, and this one pan salmon dinner with asparagus and sweet potatoes provides a full meal that is easy, healthy, and quick!"
Recipe: CatzInTheKitchen.
Keto Salmon Patties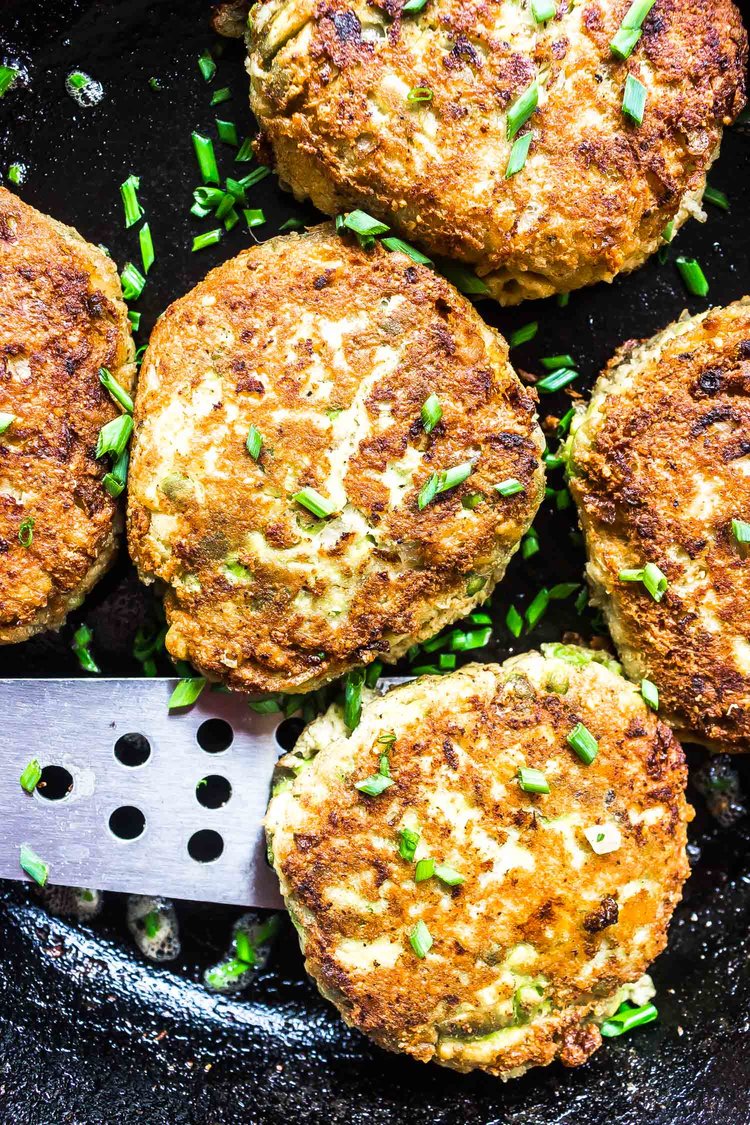 "These keto salmon patties are loaded with healthy fats from the salmon, almond flour, avocados & butter. The recipe comes together in only a few minutes & cleanup's a breeze too.".
Recipe: CastIronKeto.
One Pan Cod With Chorizo & Chickpeas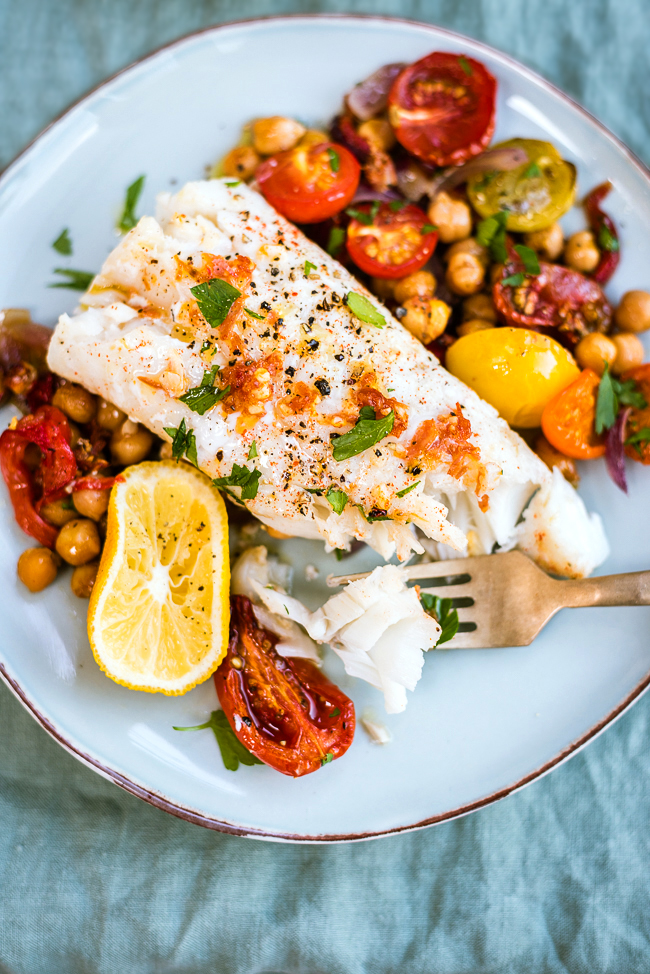 "It is one of the tastiest, healthiest and easiest meals on this blog and ready in about 30 minutes. Tomatoes, onions, peppers, chickpeas and cod spiced up with a little chorizo – basically summer on a plate."
Recipe: supergoldenbakes.com
15-Minute Lemon Garlic Butter Salmon With Zucchini Noodles
"15-Minute Lemon Garlic Butter Salmon with Zucchini Noodles – Light, low carb and ready in 15 minutes. Salmon fillets are pan-seared to flaky perfection and tossed in a delicious lemon garlic butter sauce with zucchini noodles. Dinner perfection for any weeknight!".
Recipe: EatWell101.
Sheet Pan Supper: Maple Glazed Salmon With Sweet Potatoes With Broccoli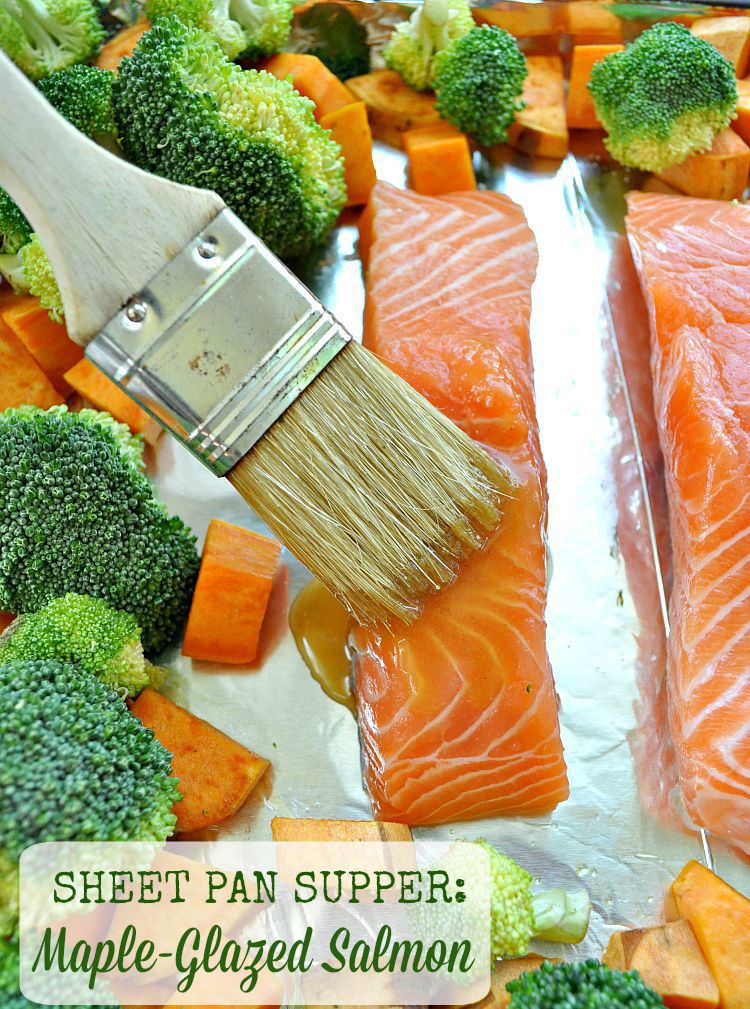 "This Sheet Pan Supper is an easy way to get to get a healthy dinner on the table FAST! By baking the Maple-Glazed Salmon with Sweet Potatoes and Broccoli all on one tray, there are very few dishes to wash at the end of this clean eating family-friendly meal!"
Recipe: TheSeasonedMom.
Grilled Salmon With Beet Blood Orange Relish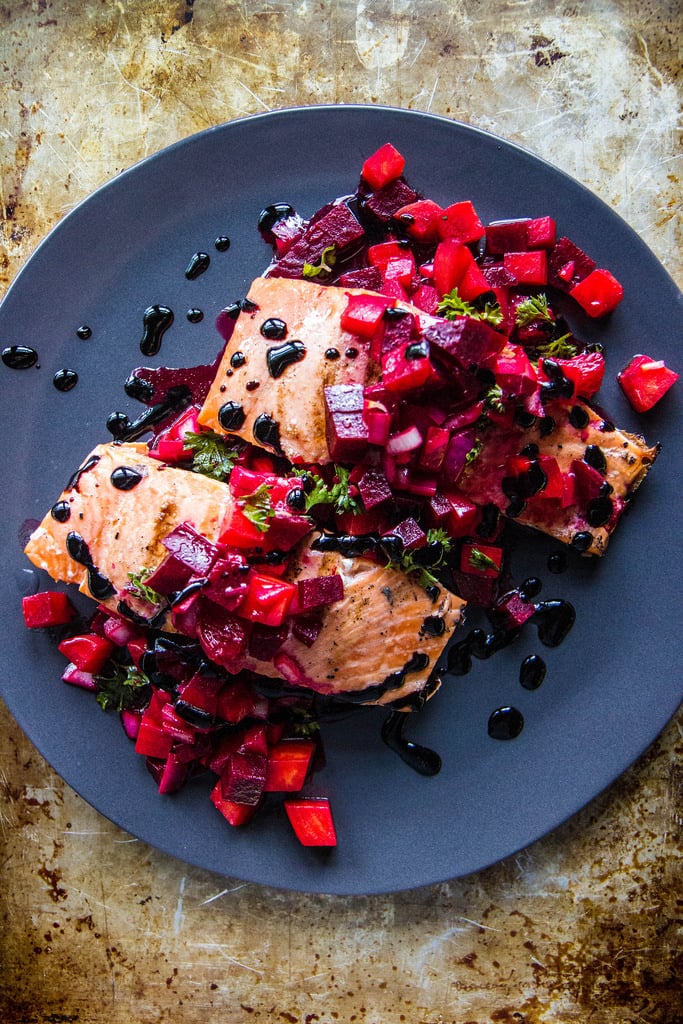 "That awesome flavor that the grill gives the salmon (and the crispy delicious skin!) is wonderfully contrasted and complemented by the beets and blood orange and red onion."
Recipe: Popsugar
Lemon Garlic Butter Fish in Parchment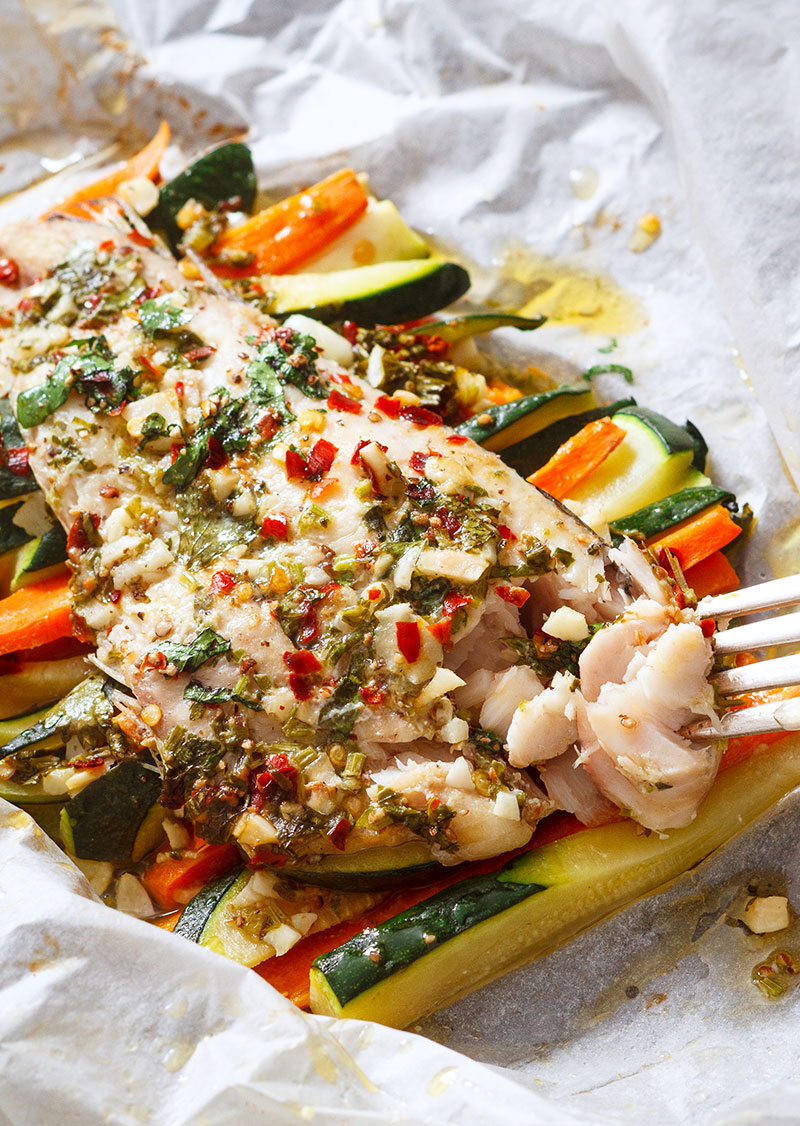 "For a healthy all-in-one dinner you can make any time in the week, this garlic butter fish in parchment takes a few minutes to prepare and requires minimal clean-up. Cooking in parchment paper pouches enhances the flavors of spices, crisp vegetables and the garlicky butter sauce."
Recipe: EatWell101.
Clean Eating Blackened Thai Salmon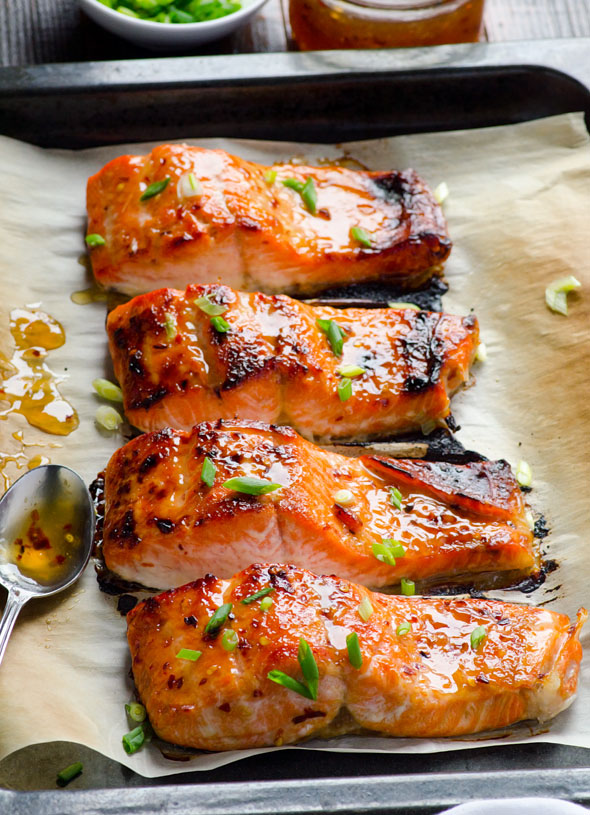 "In our household, we have been enjoying this Thai salmon with sweet chili sauce for 14 years now. In winter, I bake it in the oven and in summer months Alex grills it on a soaked in water cedar plank. Second version is unbelievable tasty but oven method is as good minus the cedar smoky flavour."
Recipe: IFoodReal.
Macadamia Crusted Fish Fingers & Red Cabbage Tarragon Slaw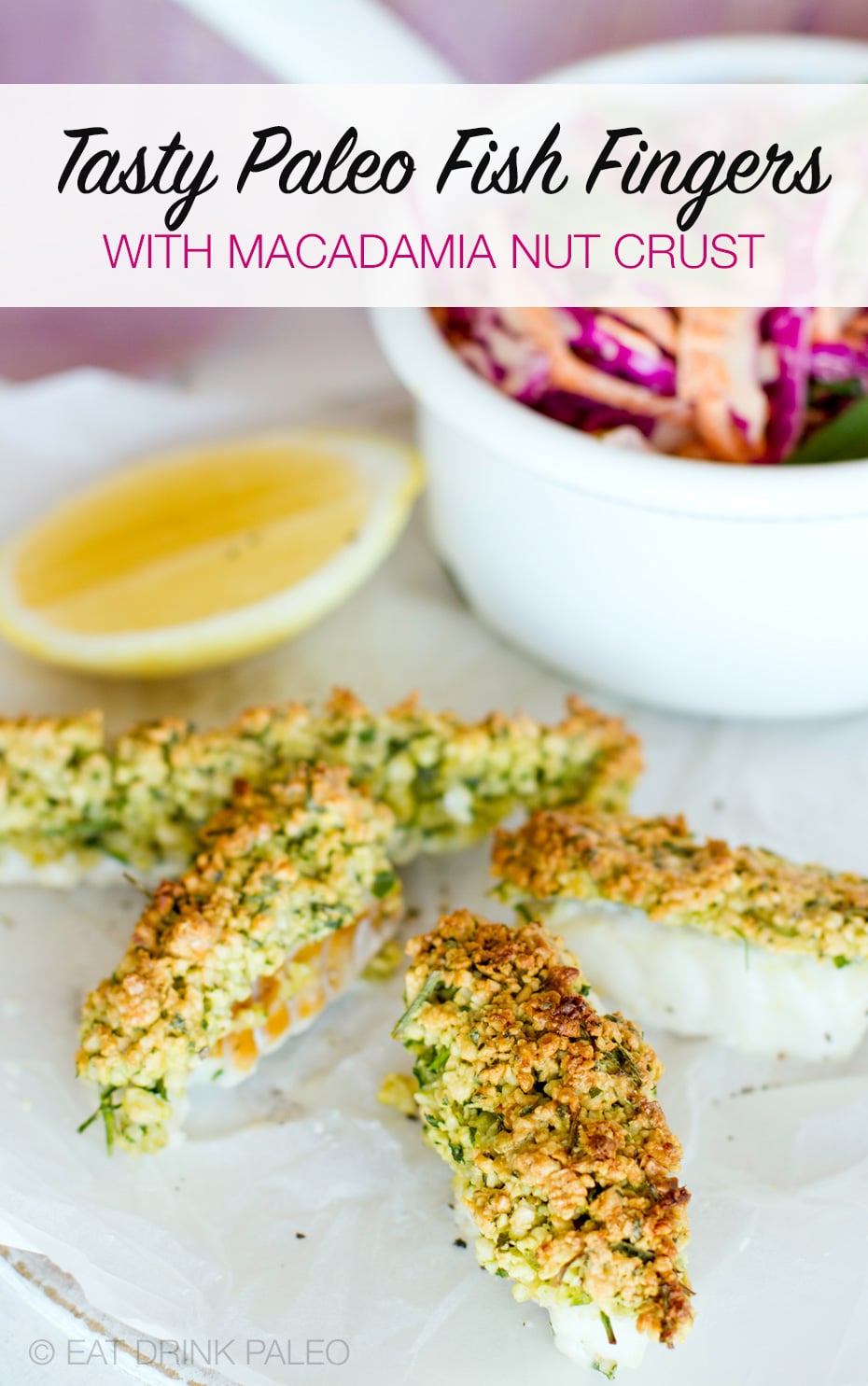 "These healthy paleo fish fingers are crusted with macadamia nut, garlic and parsley crumb paste and baked to perfection. Served with a nutritious rainbow tarragon slaw salad.".
Recipe: EatDrinkPaleo.
Sicilian-Style Salmon With Garlic Mushrooms
"Bring the flavours of Siciliy to your plate with this simple fish supper."
Recipe: bbc.co.uk
Brown Sugar Glazed Salmon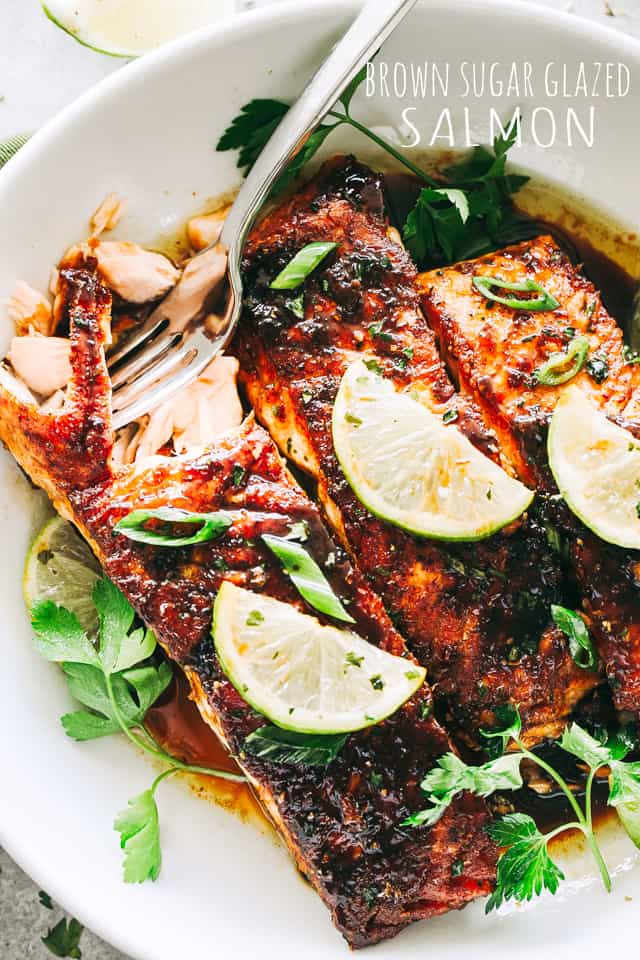 "Brown Sugar Glazed Salmon Recipe – Crispy on the outside, tender on the inside, this sweet and tangy salmon recipe is an easy weeknight meal that will quickly have everyone coming back for seconds."
Recipe: DietHood.
Lemon Garlic Herb Crusted Salmon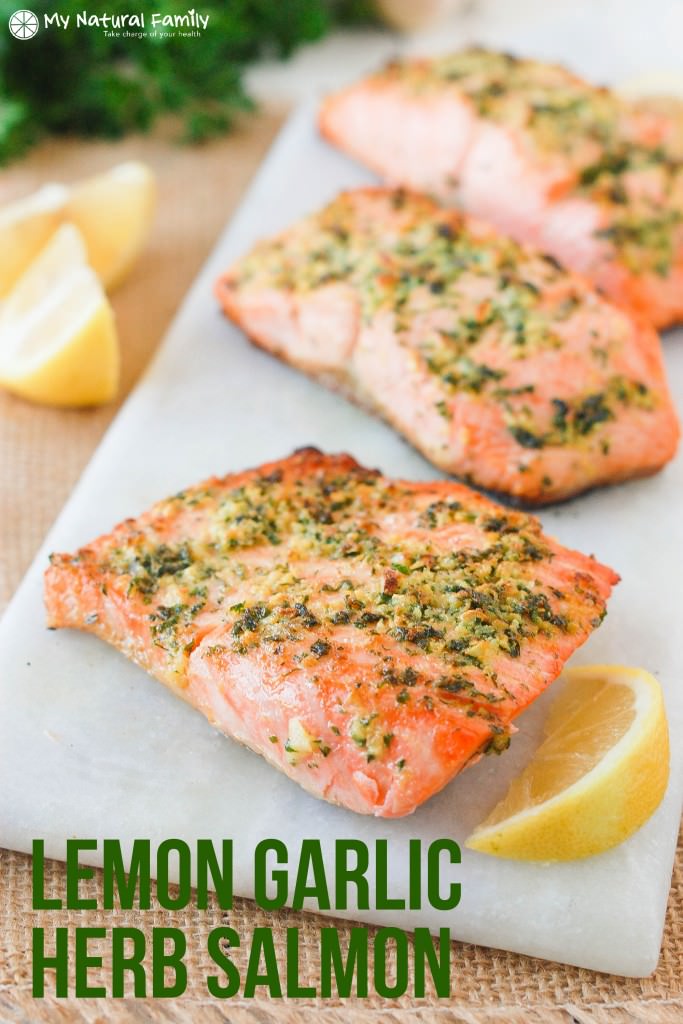 "We have an easy baked fish recipe for you – lemon garlic herb crusted Paleo salmon. This fish is light and flaky and full of flavor. It only takes 10 minutes to bake this dish. It would be delicious with some wild rice or cauliflower rice, french bread and/or your choice of vegetables (all depending on what diet you are on, of course)."
Recipe: MyNaturalFamily.
Spicy Thai Shrimp Salad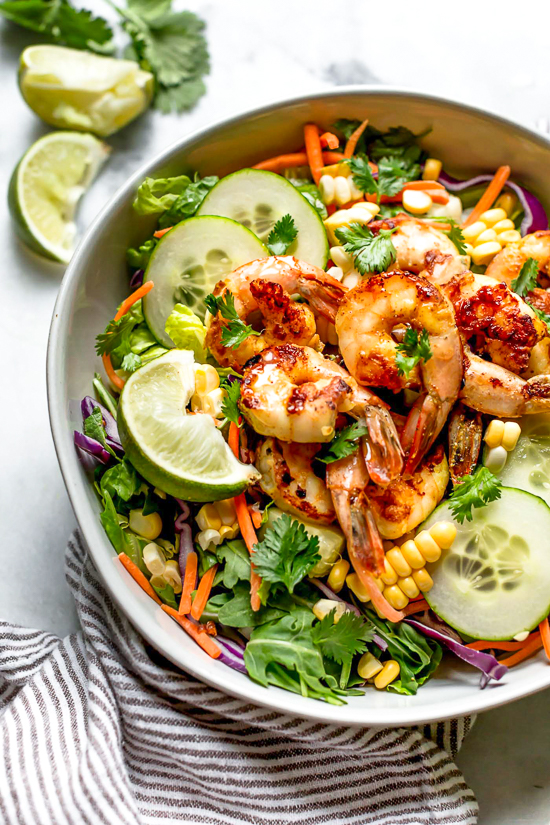 "This refreshing Thai-style salad with greens, herbs, veggies and shrimp, all tossed in a delicious cashew dressing, is the perfect one-dish summer dinner.
Recipe: SkinnyTaste.
Sesame Salmon and Cucumber Salad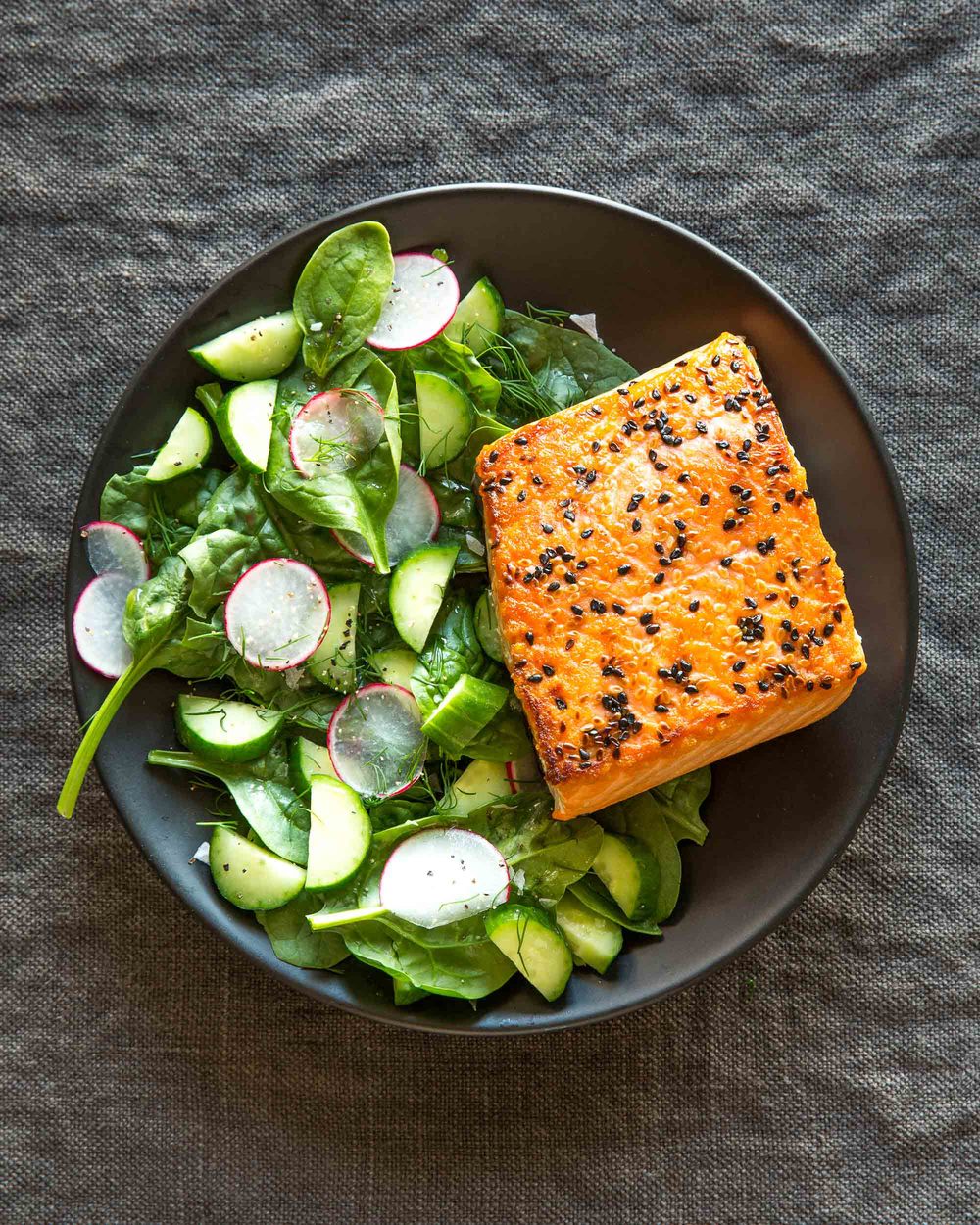 "Eating a low carb dinner is one trick she's learned to avoid going to sleep uncertain about her blood sugar. Plus, with a simple salad and quick-cooking fish, it doesn't take long to prepare."
Recipe: TheGantzery.
Baked Honey-Teriyaki Salmon And Asparagus With Cauliflower Rice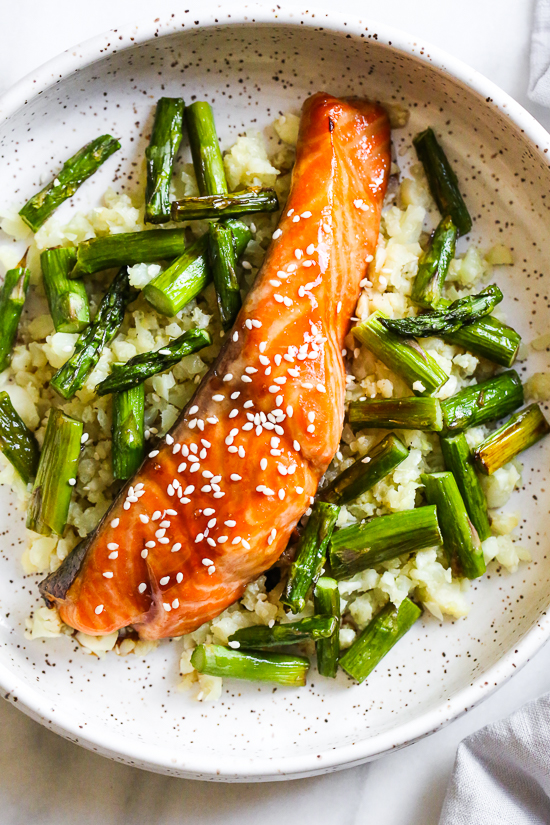 "Baked Honey-Teriyaki Salmon and Asparagus with Cauliflower Rice, this 15-minute dinner is not just tasty, it's also good for you!"
Recipe: SkinnyTaste.
Easy Ginger Chili and Lemon Salmon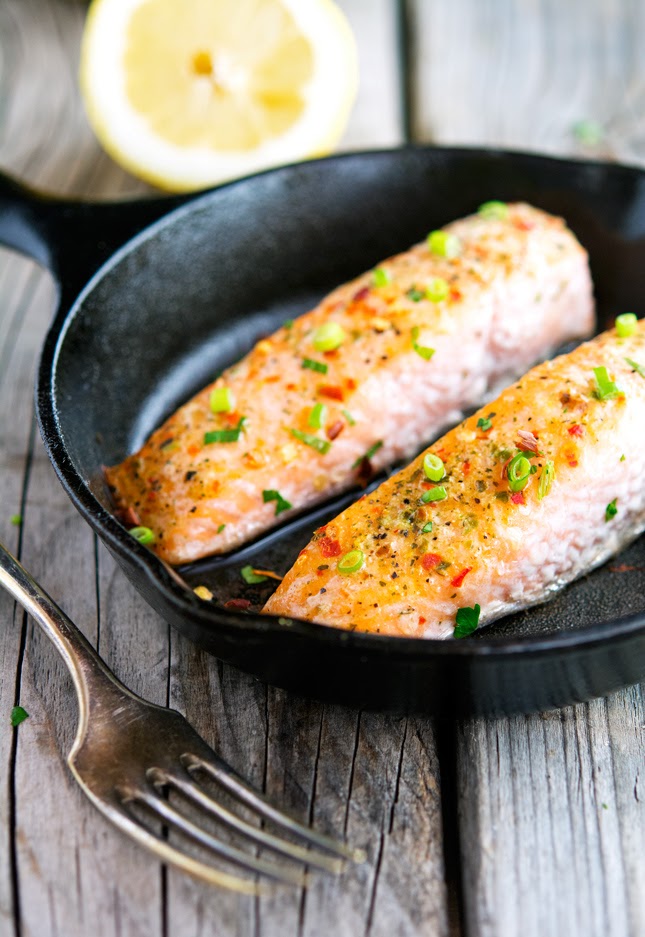 "Unless you're making this fantastic ginger, chili and lemon salmon. It smells so amazing no one will complain about it. The flavours are wonderfully intense, as the salmon fully soaks in the marinade to give it fantastic hints of tangy lemon, bold garlic, spicy chili and soothing ginger."
Recipe: TheIronYou.
15-Minute Prawn & Broccoli Stir-Fry With Cashews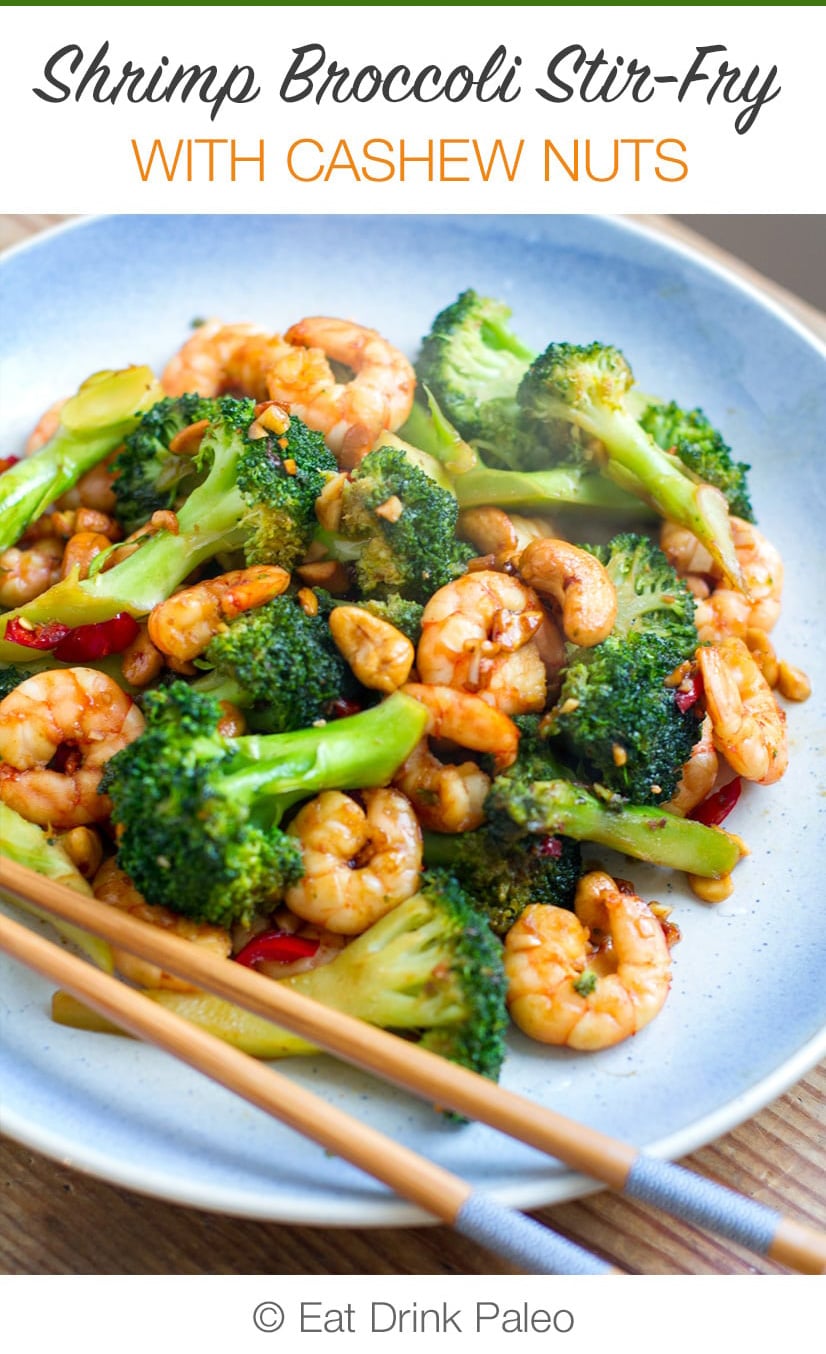 "This tasty, paleo shrimp and broccoli stir-fry is the easiest and quickest paleo dinner EVER! I have a sneaky method for whipping this meal up in less than 15 minutes, and I am going to tell you how."
Recipe: EatDrinkPaleo.
Baked Salmon Fish Sticks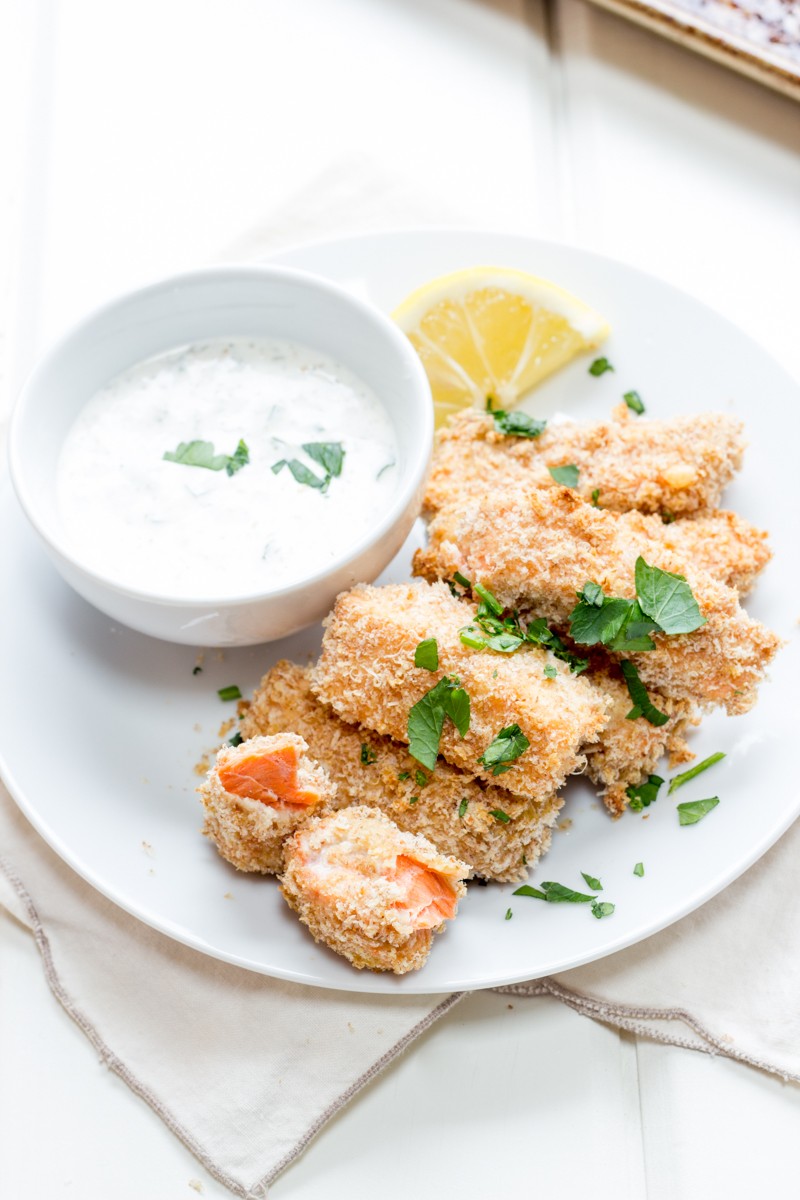 "These fish sticks are also super tasty and have a great crunch. If you think getting breaded food crunchy in the oven is impossible, let me prove you wrong with these fish sticks."
Recipe: BackToHerRoots.
Pan Seared Salmon With Lemon Garlic Cream Sauce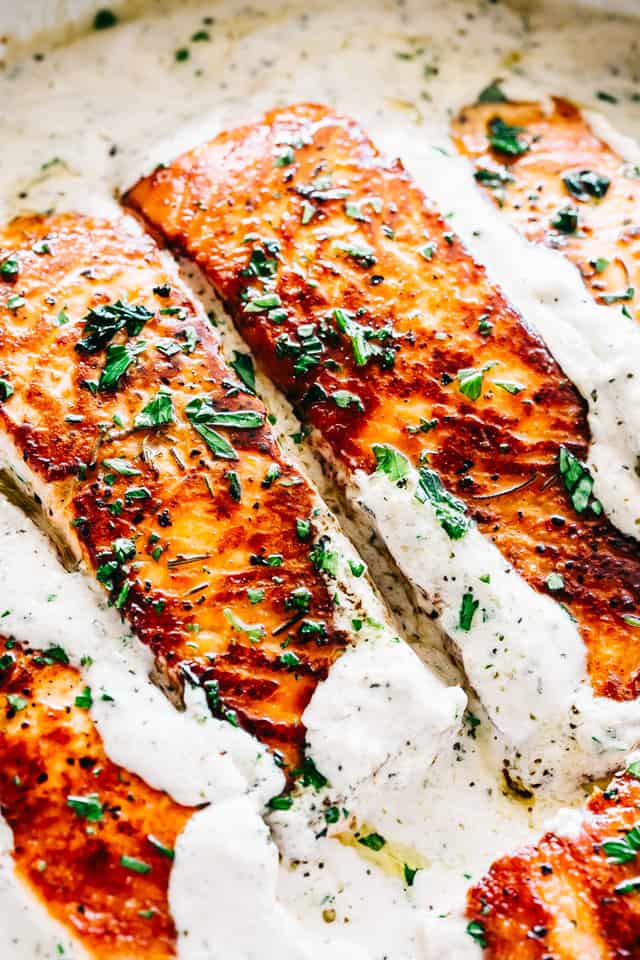 "Pan Seared Salmon with Lemon Garlic Cream Sauce – Quick, delicious, bright and creamy salmon dinner prepared in just one skillet and served with an incredible lemon garlic cream sauce! All you need is about 20 minutes and a handful of ingredients.".
Recipe: Diethood.
Pistachio Salmon with Cranberry Sauce and Celriac Mash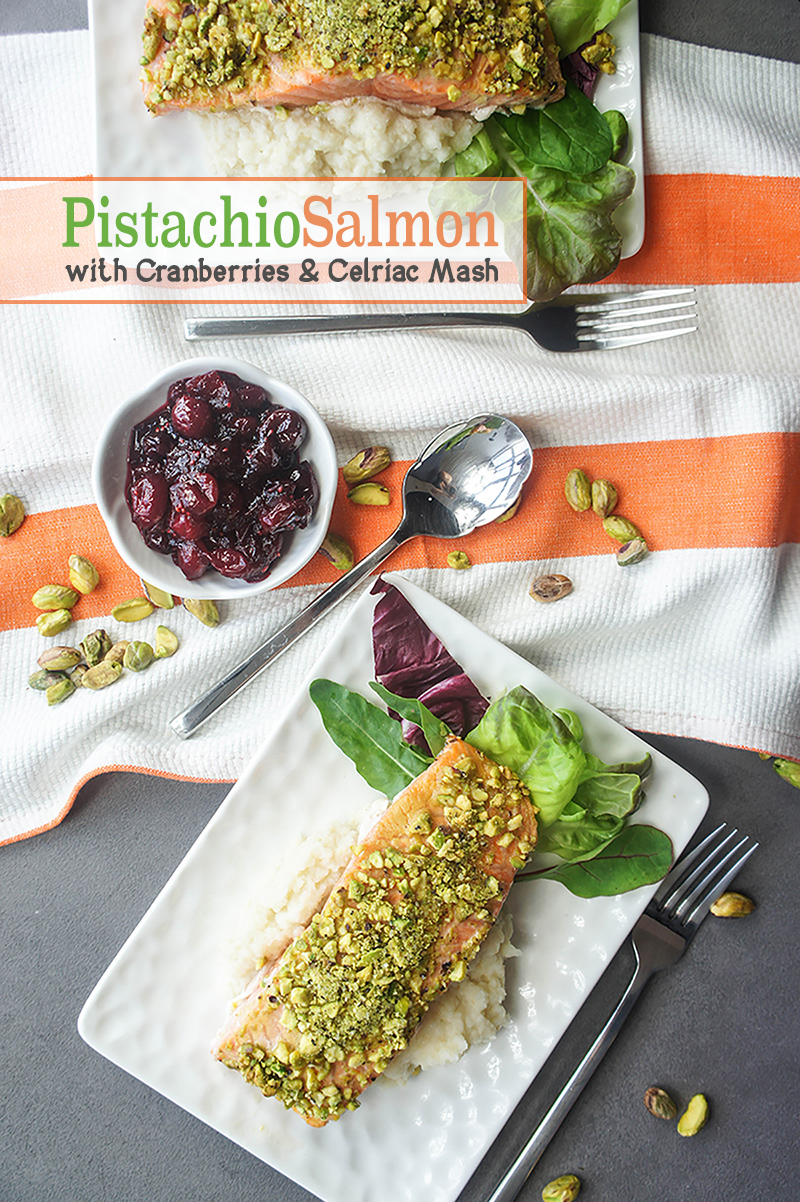 "Salmon is a favorite meal around here. It's quick, easy, delicious, and super nutritious. Generally, salmon is a midweek meal, because it's absolutely delicious sprinkled with salt, pepper, and dill, wrapped in a piece of foil, and baked for 25 minutes. Serve with a simple salad, baked potato, or some roasted veggies, and done. Dinner served. Easy peasy."
Recipe: Vitamin-Sunshine.
Honey Ginger Cedar Plank Grilled Salmon With Avocado Salsa.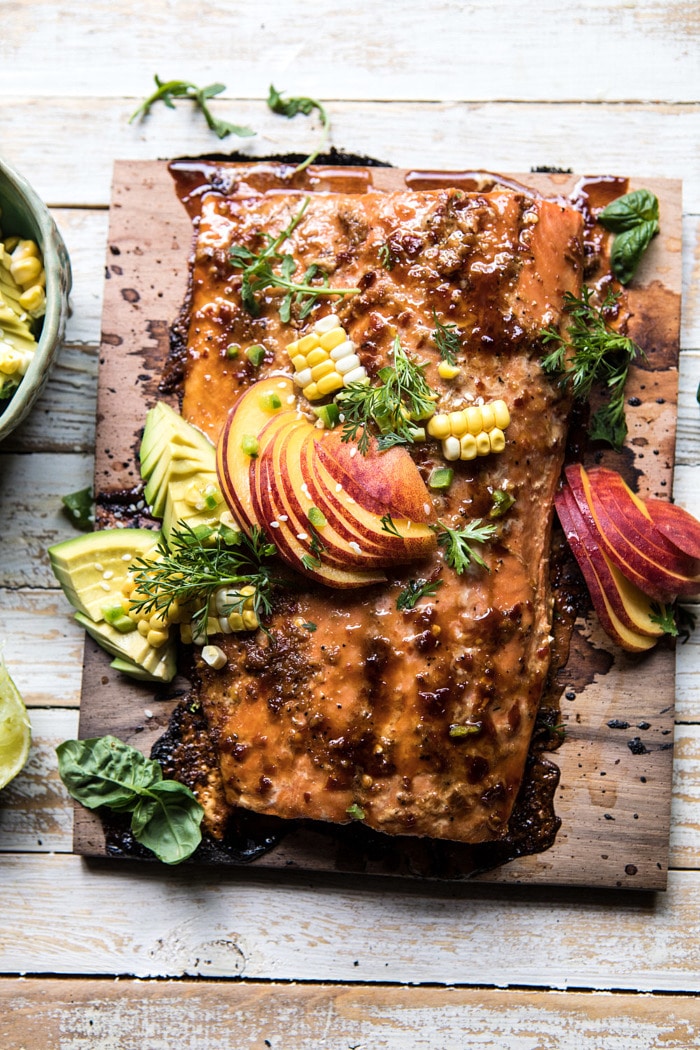 "Meet your new favorite super simple summertime dinner. This sweet, tangy, and spicy cedar plank grilled salmon is topped with a nectarine, corn, and avocado salsa and is bursting with fresh flavor and color. It comes together in under an hour, uses farmers market ingredients, and is all around delicious. You'll love this healthy recipe!".
Recipe: HalfBakedHarvest.
Blackened Cajun Salmon with Mayo Free Avocado Caesar Salad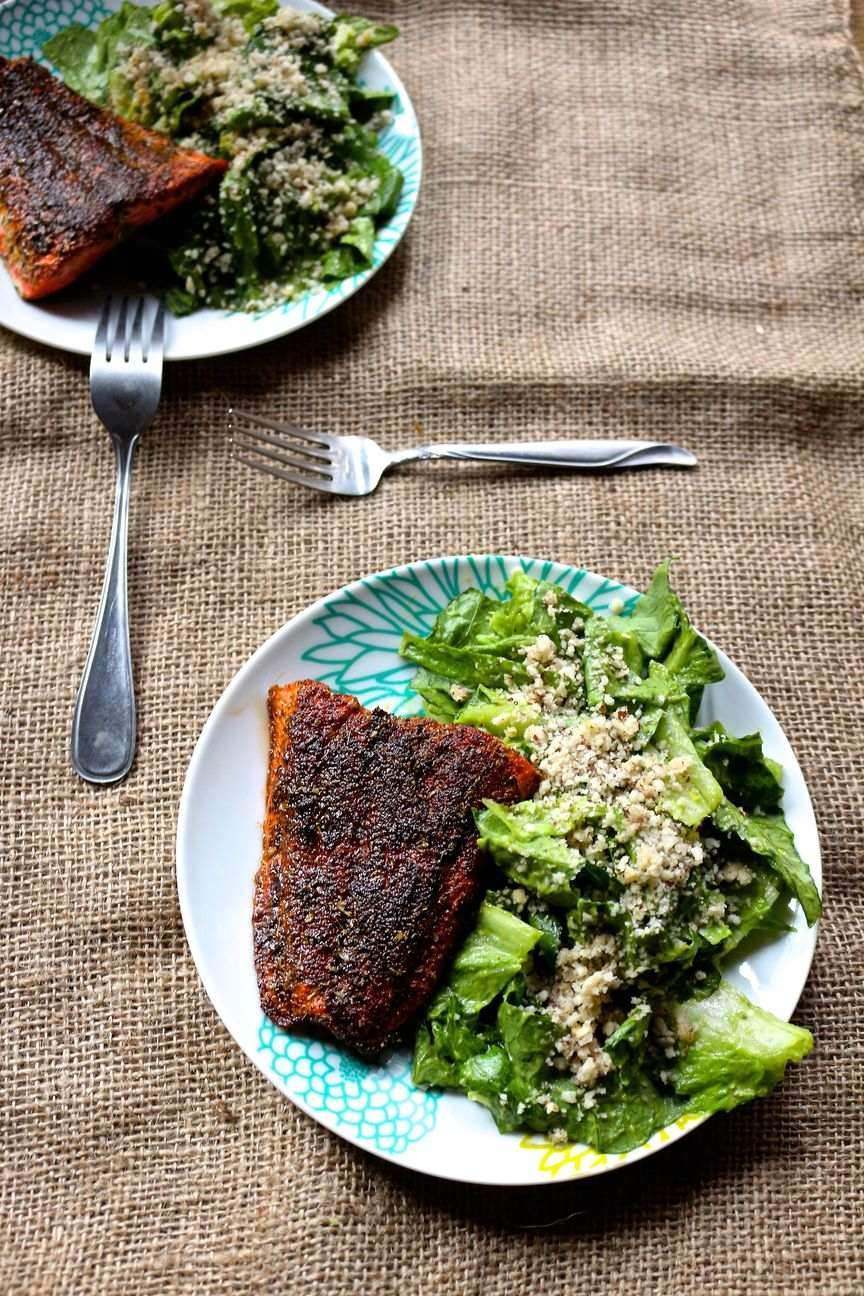 "I recipe tested this to make sure it was wonderful. Pfft, and to eat it on more than one occasion in a week. Perfectly satisfies the garlic tooth. The combination of cajun spices blend so well with this creamy mock caesar. I actually have nothing at all against mayo, or parmesan for that matter."
Recipe: NakedCuisine.
Shrimp Fried Cauliflower Rice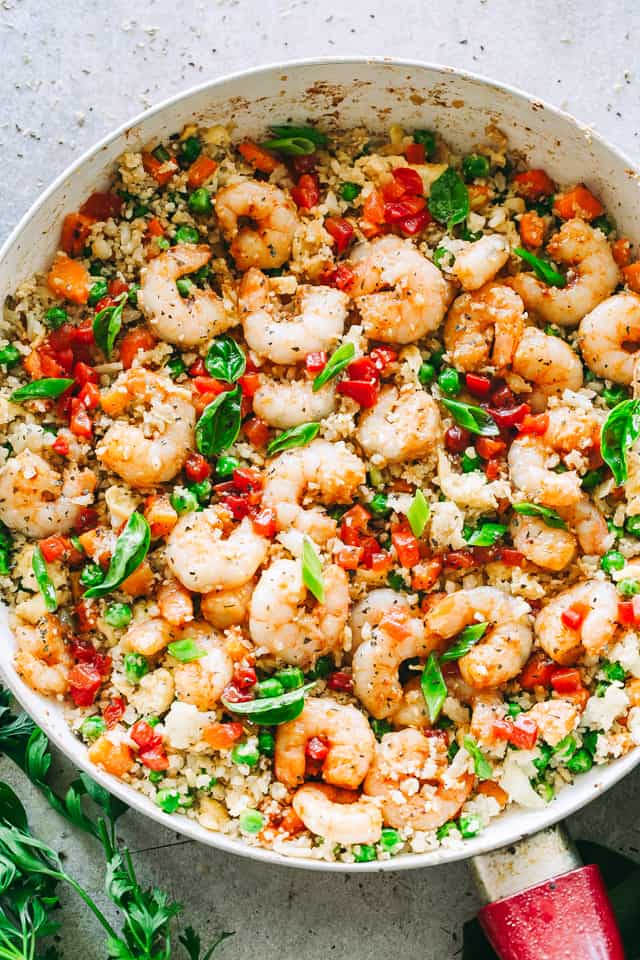 "Shrimp Fried Cauliflower Rice – Skip the takeout and make this amazing, low carb "fried rice" meal right at home in just 20 minutes!".
Recipe: Diethood.
Maple Walnut Crusted Salmon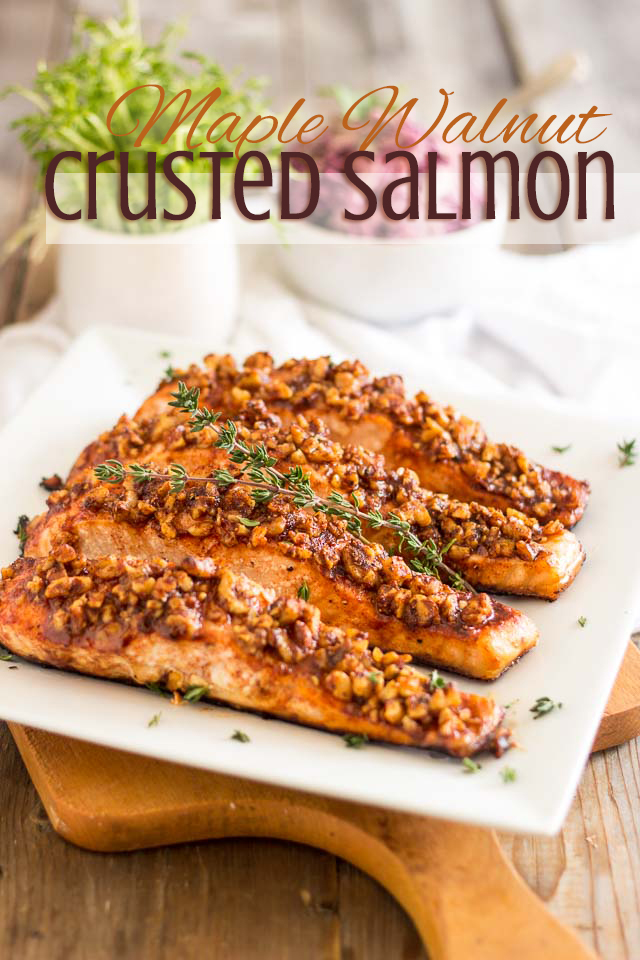 "Now, with a name such as Maple Walnut Crusted Salmon, one might expect this dish to be overly sweet but surprisingly, it doesn't taste very sugary at all. Instead, the maple syrup delivers very subtle hints of sweetness to your taste buds, while the smokiness of the paprika and the faint kick from the chipotle pepper brilliantly complement and help keep that sweetness level in check."
Recipe: TheHealthyFoodie.