When it comes to healthy low-carb recipes, seafood really is king. All fish and shellfish are high in protein, virtually carb-free, and either low-fat or filled with healthy omega 3 fatty acids. No matter what your dietary lifestyle looks like we have put together The 50+ Most Flavorful Fish & Seafood Recipes for Serious Fat Loss! | Part – 2 that low carb followers or not will all enjoy!
Pan-Seared Salmon with Creamy Avocado Sauce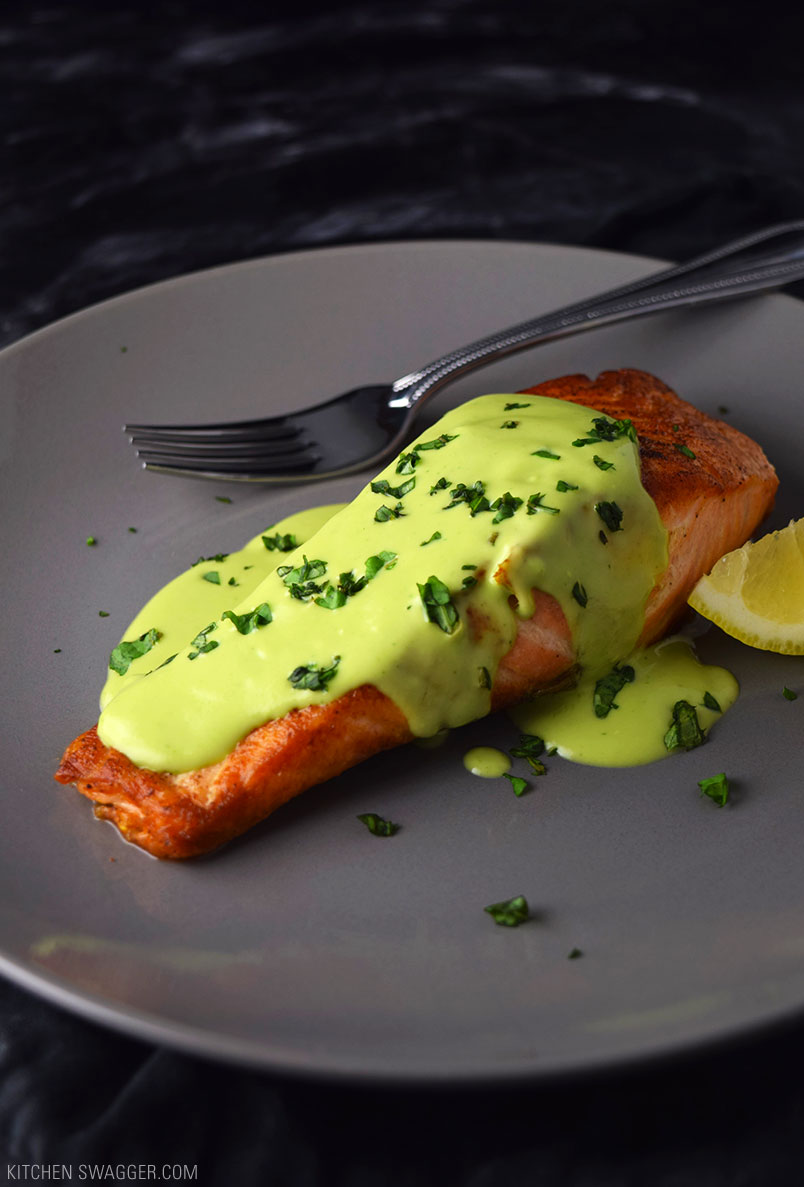 "Simply pan sear salmon in a little olive oil on medium-high heat for 5-6 minutes per side. That's it. Top with creamy avocado sauce and serve with a lemon wedge. P.S. The more sauce, the better."
Recipe: KitchenSwagger
Ahi Tuna Sushi Stacks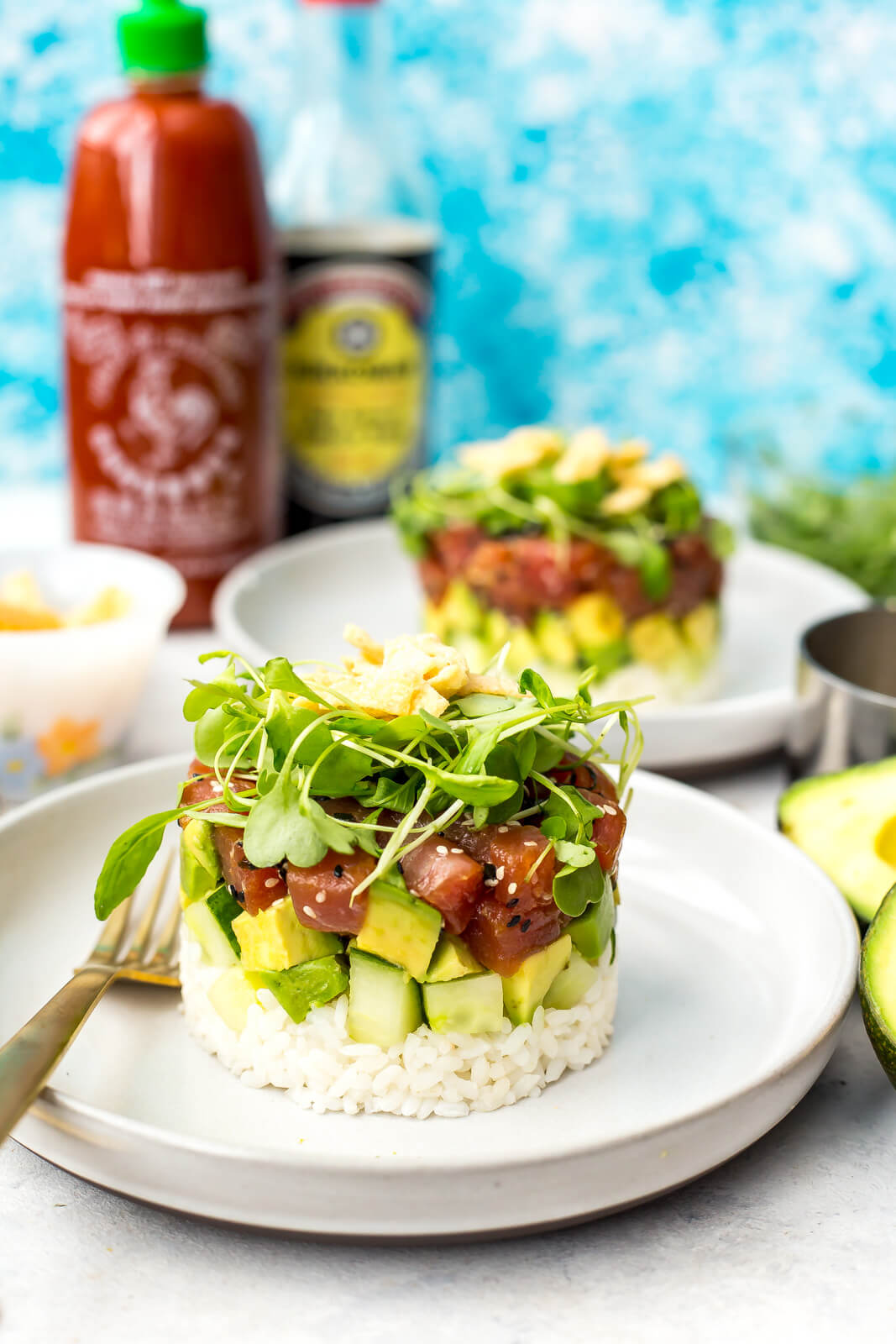 "These Ahi Tuna Sushi Stacks are a delicious copycat version of the ones on the menu at Canadian restaurant chain Cactus Club Cafe – with a sesame-soy marinade, avocado, cucumber & micro greens, it's a deliciously light dinner idea!".
Recipe: TheGirlOnBloor.
Tart Cherry Glazed Salmon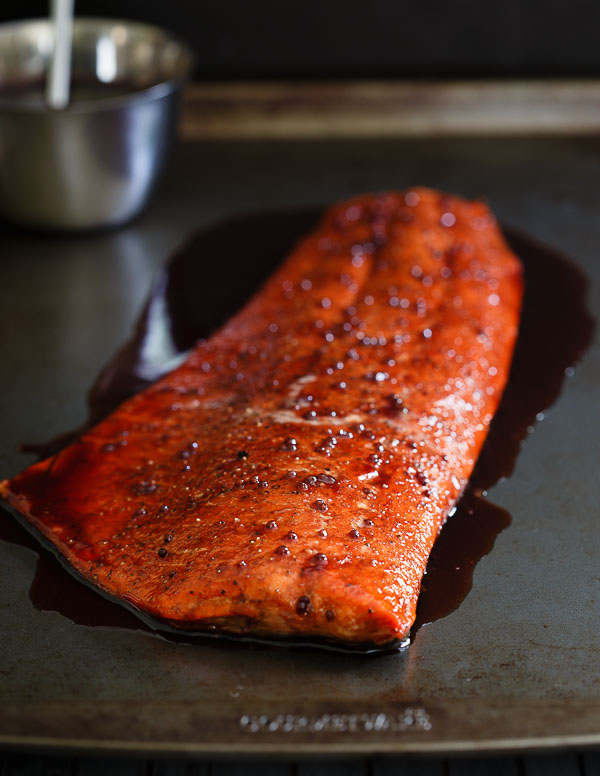 "This tart cherry glazed salmon is broiled to perfection with a tart and slightly sweet caramelized cherry exterior. It's a great way to get all the superfood benefits of salmon with the recovery and sleep benefits of tart cherries."
Recipe: RunningToTheKitchen.
[Related Reading: 50+ Most Flavorful Fish & Seafood Recipes for Serious Fat Loss! | Part – 1]
Moroccan Salmon Foil Packets with Carrot Noodles & Chickpeas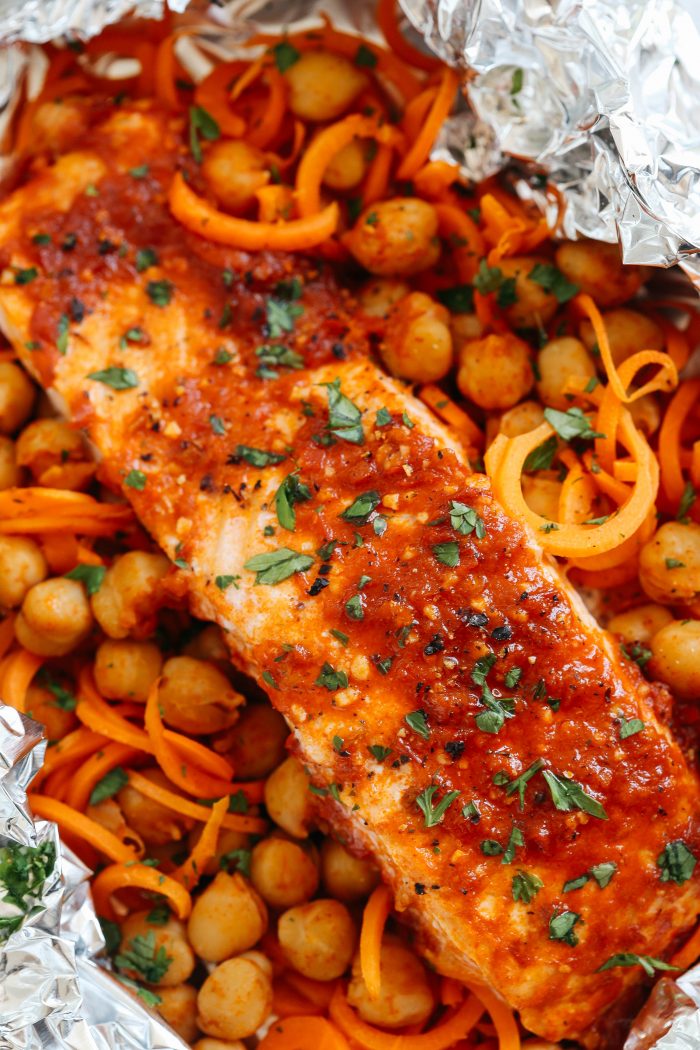 "These Moroccan Salmon Foil Packets with Carrot Noodles & Chickpeas are sweet and spicy with tons of flavor and are easily made in just 20 minutes with little to no clean-up!".
Recipe: EatYourselfSkinny.
Jerk Fish Tacos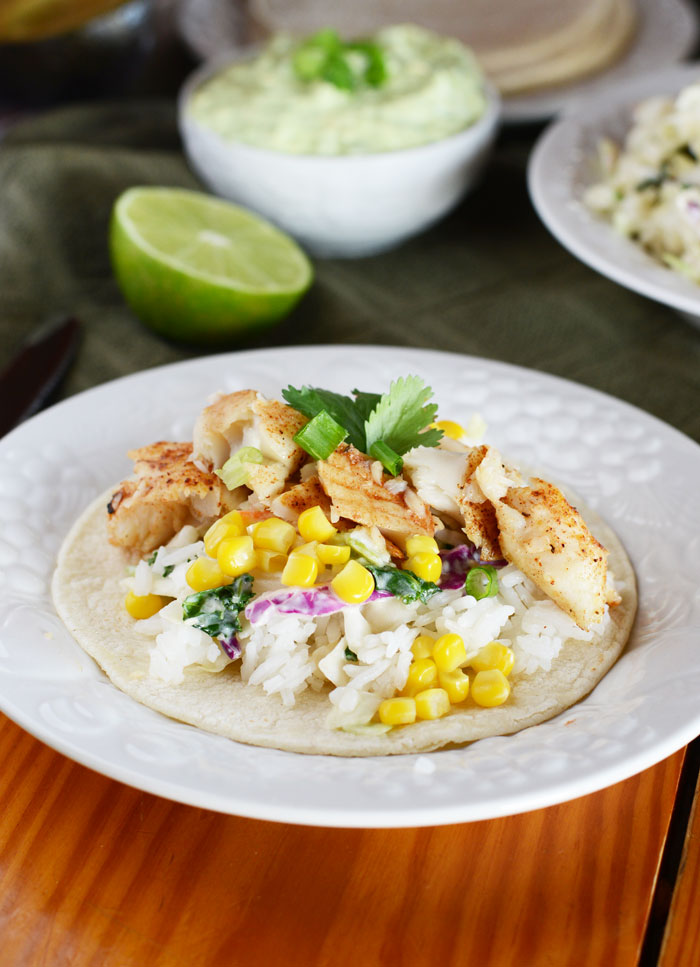 "It's time to get creative my friends! I knew I didn't want to make something typical and I also knew I wanted to mix lots of flavors. Operation jerk + thai = Jerk Fish Tacos with Asian Slaw and Avocado Lime Sauce. It's gluten free, fresh, and healthy, too!"
Recipe: FitFoodieFinds.
Spicy Tuna Avocado Wrap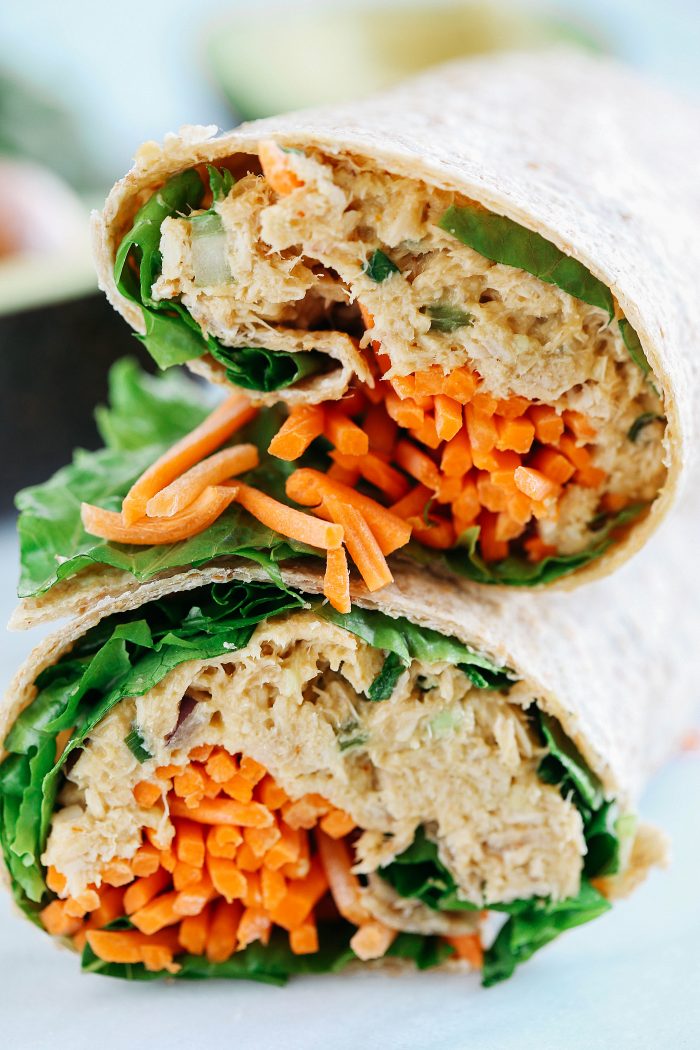 "Tracking PixelLooking for a fun healthy lunch idea? Well I've partnered with Bumble Bee® to bring you these delicious Spicy Tuna Avocado Wraps that are light and fresh, full of flavor and only take about 5 minutes to make!".
Recipe: EatYourselfSkinny.
[Related Reading: How to Lose Close To 10 Pounds In A Week?]
Ginger Lime Tamari Sablefish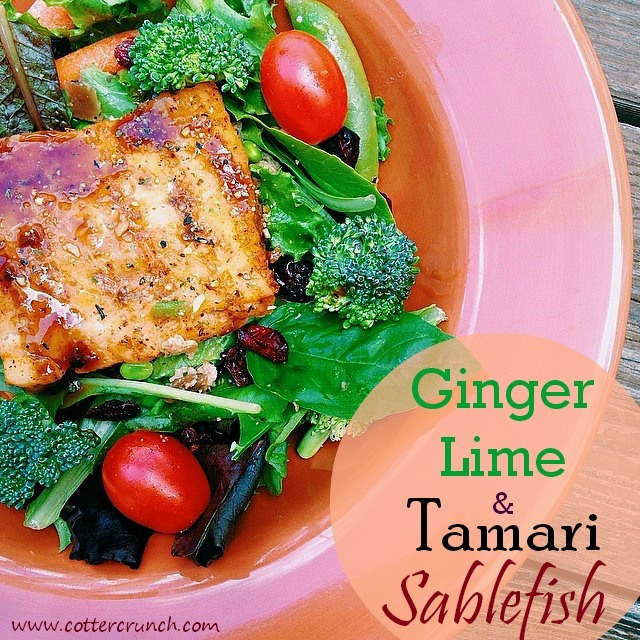 "Sablefish (also known as Alaskan Black Cod) has been around for years!Fishermen have been harvesting this fish since the late 1800s. It's known as the "chocolate" of fish due to it's delicious buttery texture and flavor! Now you're thinking about chocolate and butter, aren't you? Haha."
Recipe: CotterCrunch.
Green & Lean Salmon Bake (Quick & Easy Sheet Pan Meal)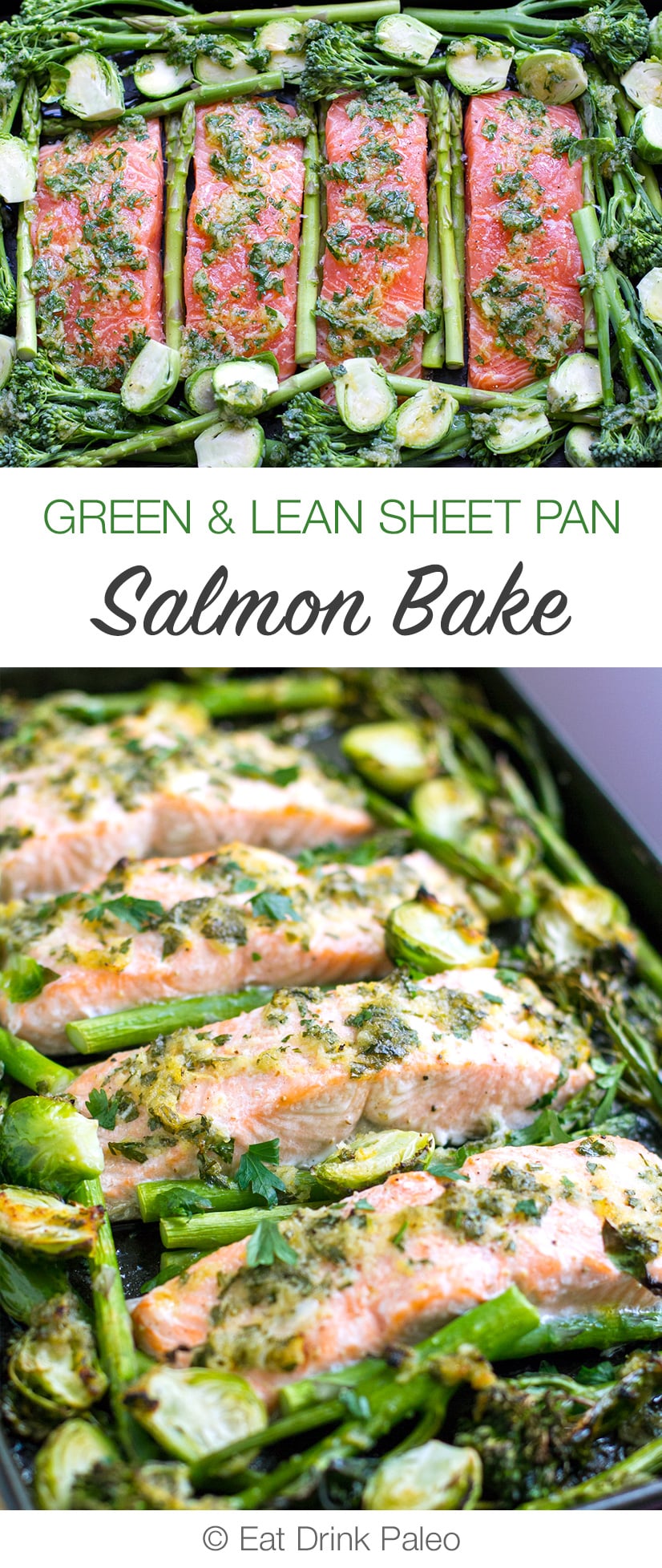 "This sheet pan meal ticks so many boxes: paleo, keto, AIP and Whole30 friendly, it's a perfect meal for anyone doing my paleo program, it has loads of green veggies, it has omega-3s rich fish, it's quick and easy, and most importantly, it's full of flavour.".
Recipe: EatDrinkPaleo.
Grain-Free BBQ Salmon Pizza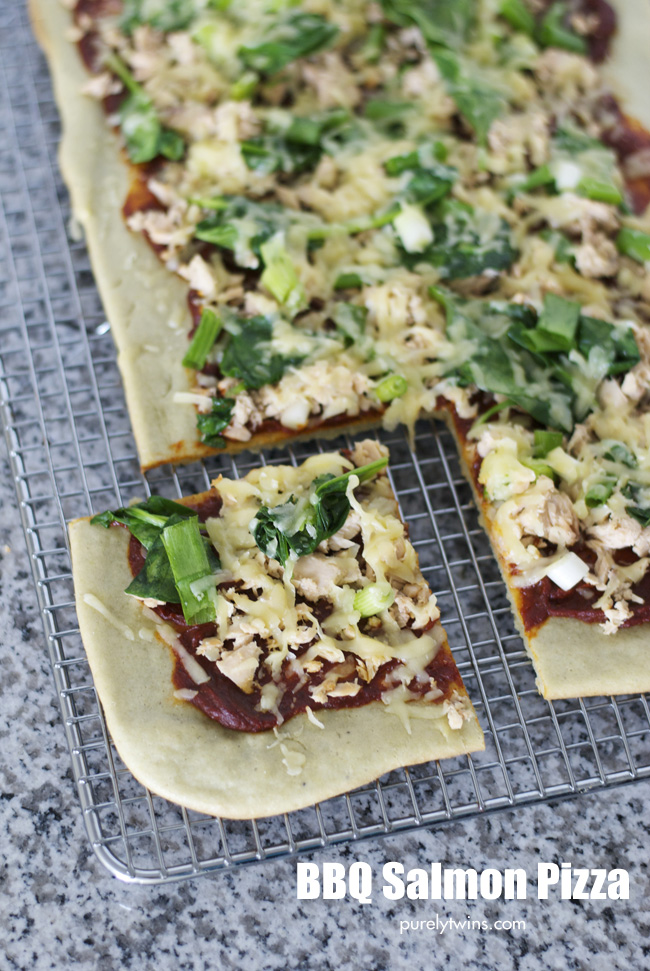 "In under 30 minutes you have yourself a quick and healthy bbq inspired pizza. Of course you don't have to put salmon on it if you don't want to. You can leave it plain with just veggies and/or cheese. Or you can add any meat of choice."
Recipe: PurelyTwins.
Mexican Tuna Steak, Sweet Red Peppers & Avocado Salsa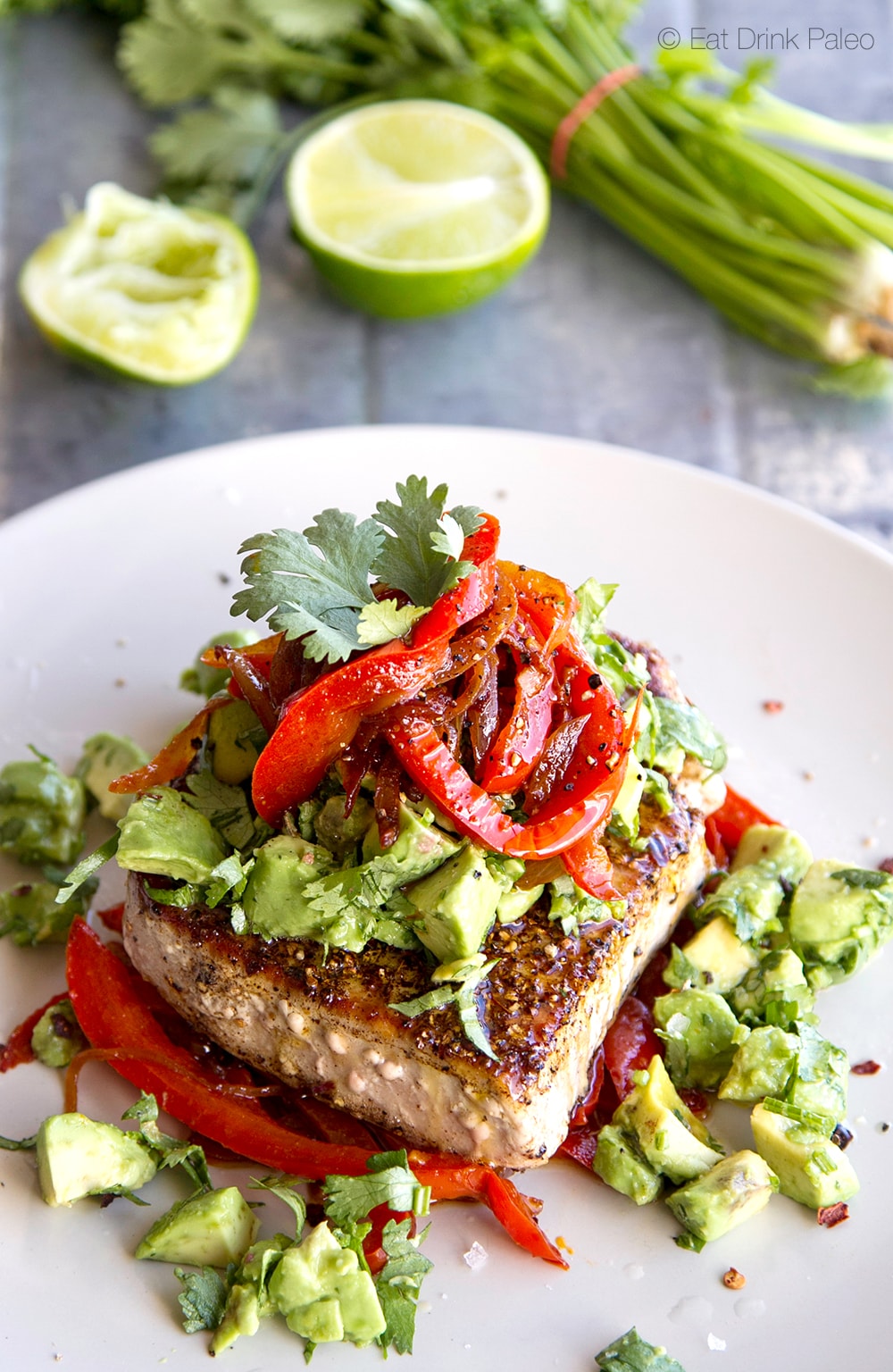 "In my quest to eat more fresh fish this year – and by that I mean to expand my repertoire of salmon – I decided to finally make something with tuna. This recipe features tuna steaks pan-fried in coriander seeds and lime zest brown butter, cumin and paprika sweet onion and red peppers, topped with zesty avocado salsa."
Recipe: EatDrinkPaleo.
Bacon Wrapped Salmon Kebabs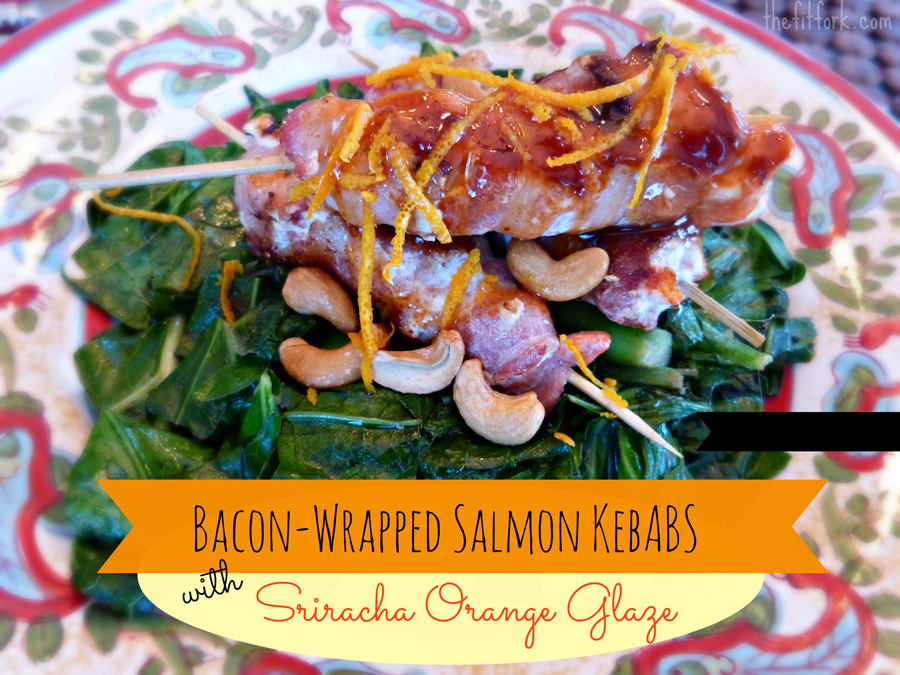 "With salmon rich in heart-healthy polyunsaturated Omega-3 fatty acids and the bacon sputtering with a hefty dose of (one might argue) less-healthy saturated fats, it only took a mere bamboo skewer to bring together these two opposing forces of dietary fat. You can call the fat combo "naughty and nice" or you can call it "yin and yang," but why not just make this recipe for Bacon-wrapped Salmon Kebabs with Sriracha-Orange Glaze and call it a damn good thang?!"
Recipe: TheFitFork.
Bream With Lemon Butter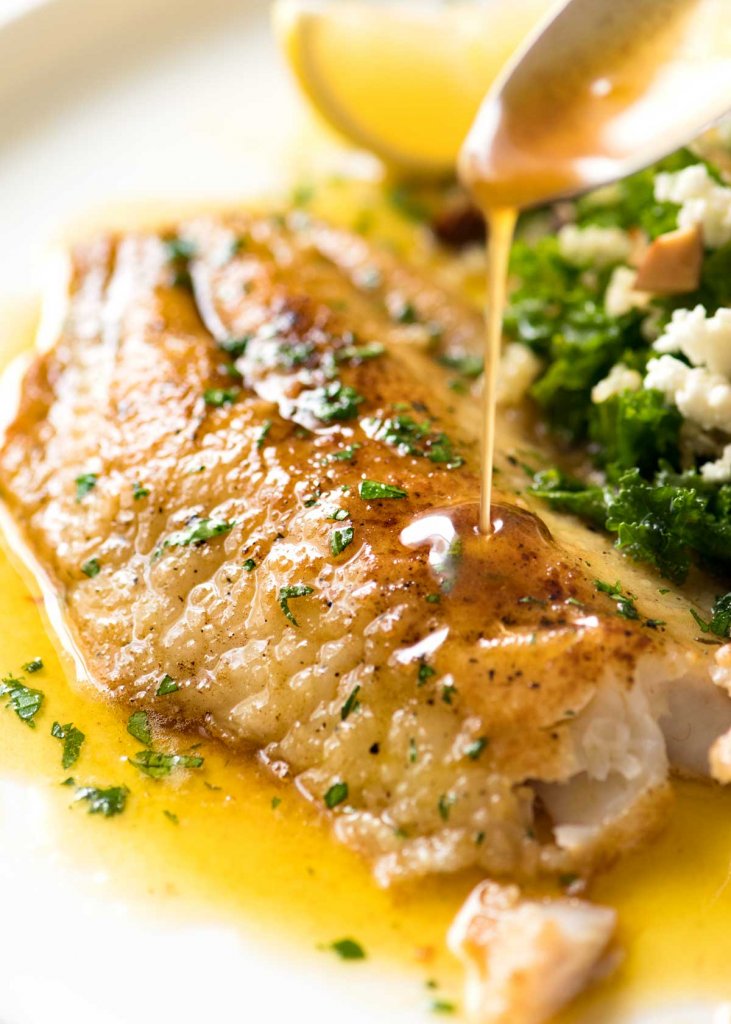 "This Lemon Butter Sauce for fish is outrageous – 3 minutes, 2 ingredients, totally restaurant worthy. The secret is browned butter – called Beurre noisette in French. Learn how to pronounce it so you can loftily tell your family and friends "we're having French tonight!".
Recipe: RecipeTinEats.
Thai Fish Fillets Steamed in a Bag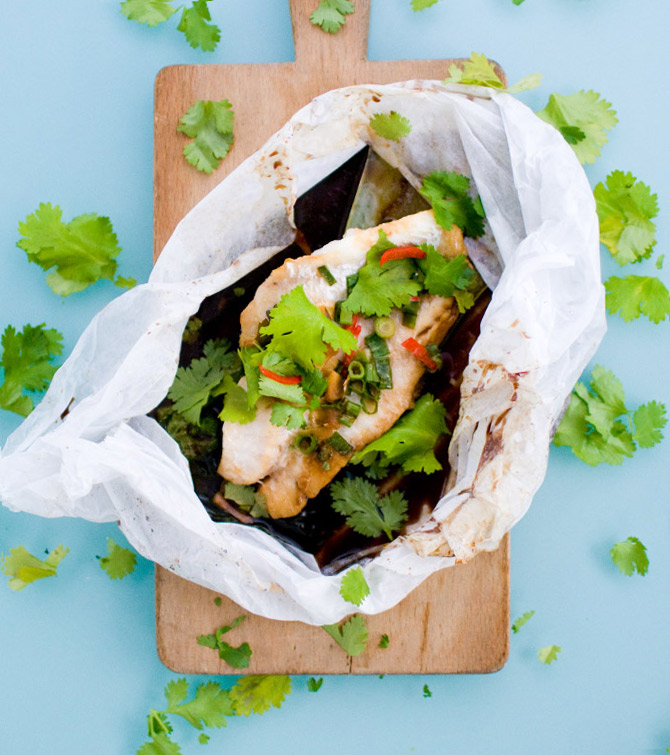 "This method of steaming fish "en papillote" or cooked in the bag is a fool-proof way to steam fish successfully every time. Simply seal the fish first, then place in a "bag" (made from folded and creased baking paper), then place in the oven to let the juices work their magic. Divine"
Recipe: GoMakeMe.
Salmon Patties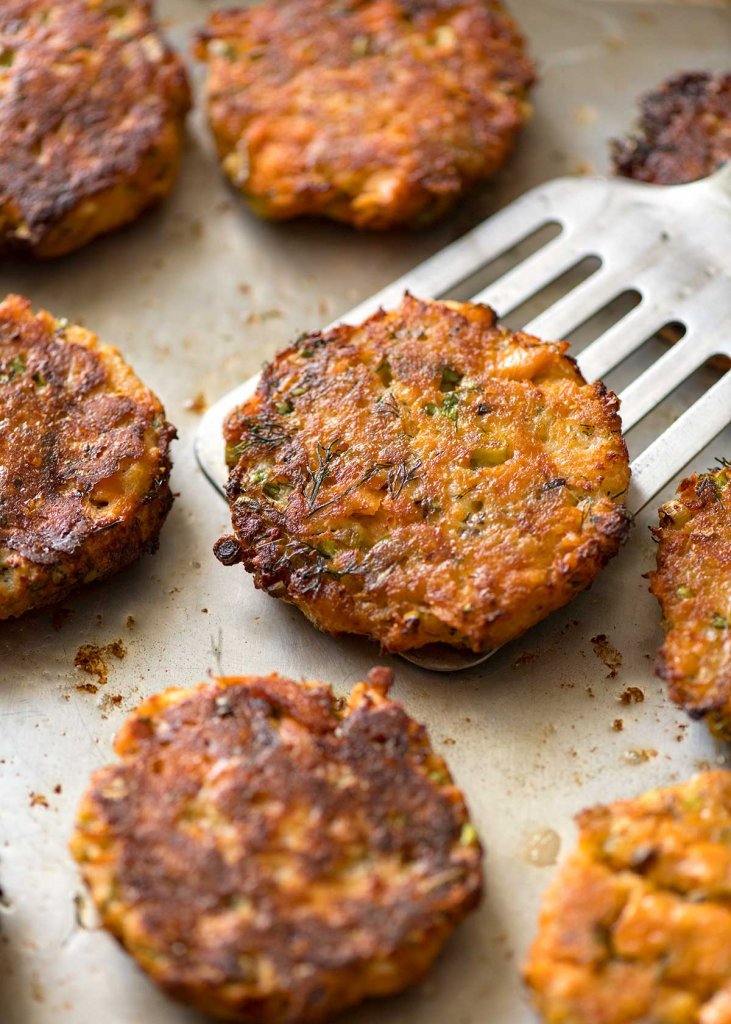 "What a way to transform canned salmon! Made with breadcrumbs rather than mashed potato so they're tender on the inside, and baked rather than fried which means healthier and less cleaning up, this is a very easy Salmon Patties recipe that you can make right now, for dinner tonight!".
Recipe: RecipeTinEats.
Crispy Salmon with Strawberry Basil Salsa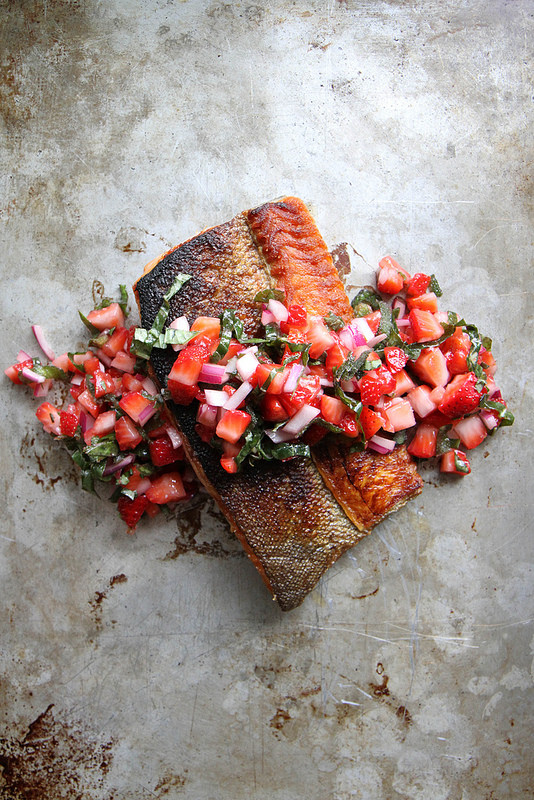 "Something Fresh and Healthy and completely delicious that took almost no time at all to prepare (but would still knock someone's socks off!)."
Recipe: HeatherChristo.
Parchment Poached Salmon with Thyme and Oranges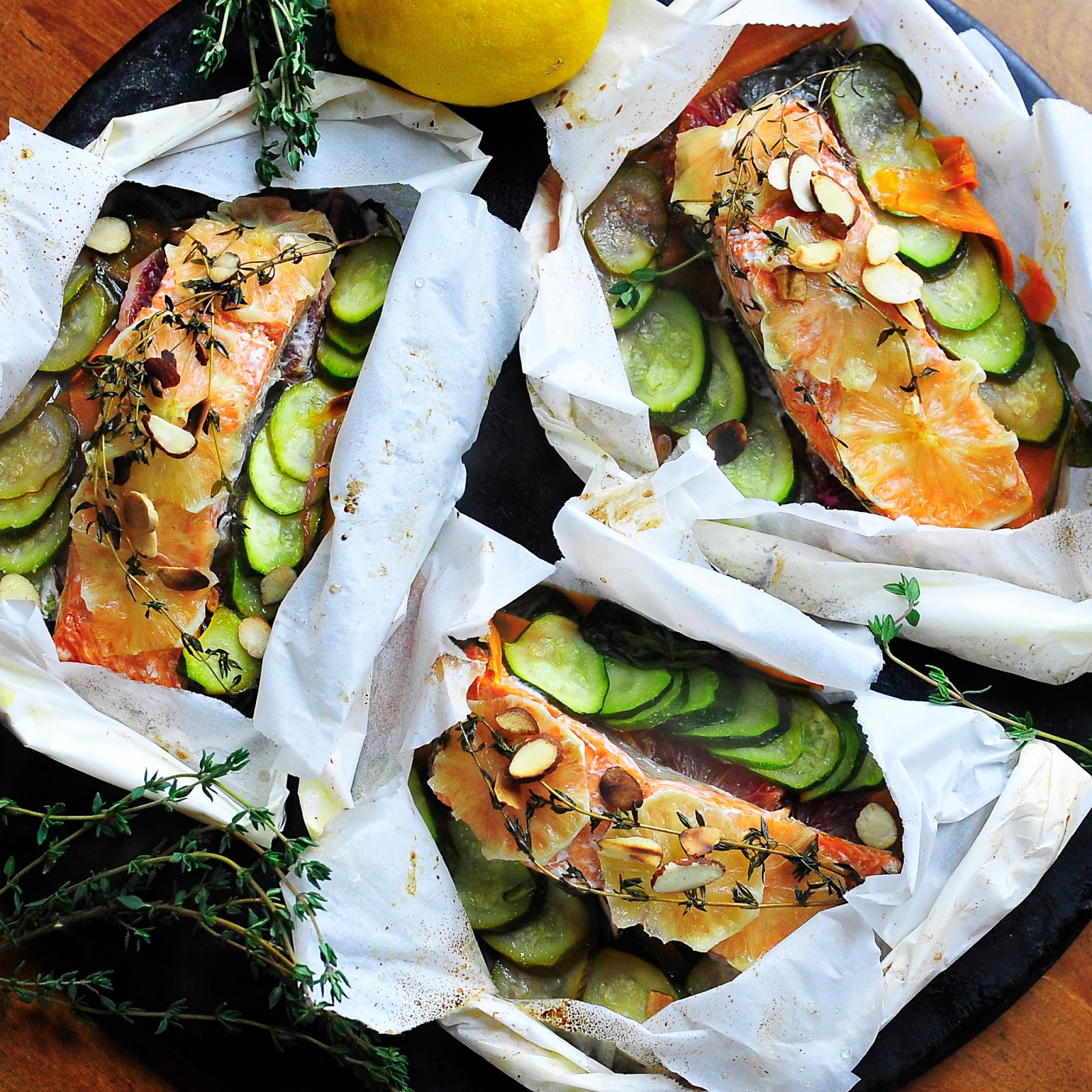 "I am going to share with you how I prepared my salmon pouch but you can add any veggies you would like, any herbs that you enjoy and any spices that rock your world. Do you see how this works?"
Recipe: Simply-Gourmet.
Lemon Honey Glazed Salmon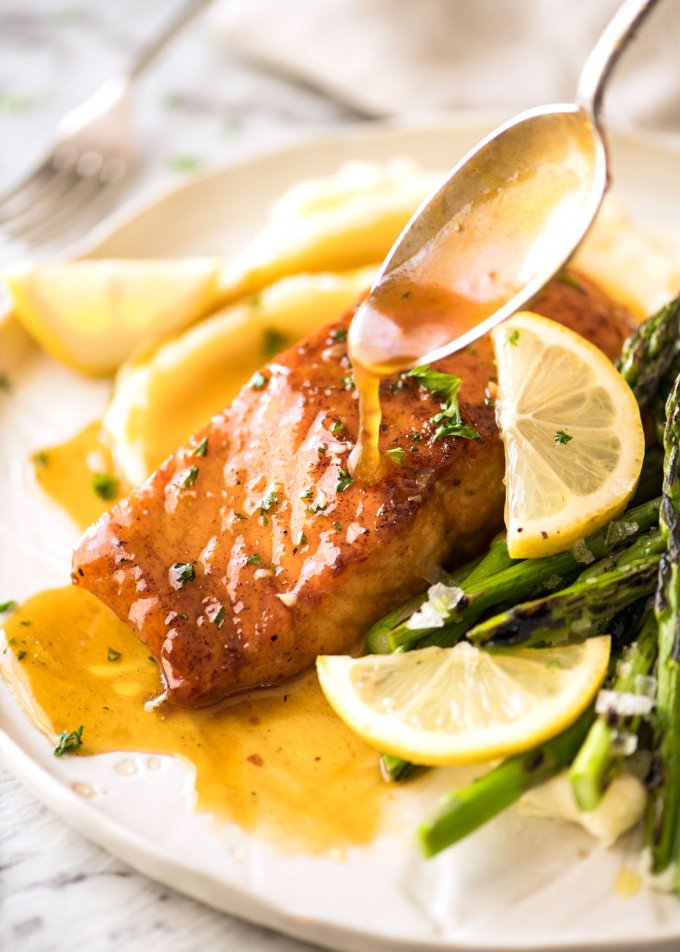 "Simplicity at its best – a seasoned salmon fillet with the most incredible lip smackingly delicious honey lemon sauce. And it's super fast – if this Lemon Honey Glazed Salmon takes you more than 8 minutes to make, you've overcooked the salmon!".
Recipe: RecipeTinEats.
[You may like: How to Lose Close To 10 Pounds In A Week?]
Healthy Mediterranean Baked Fish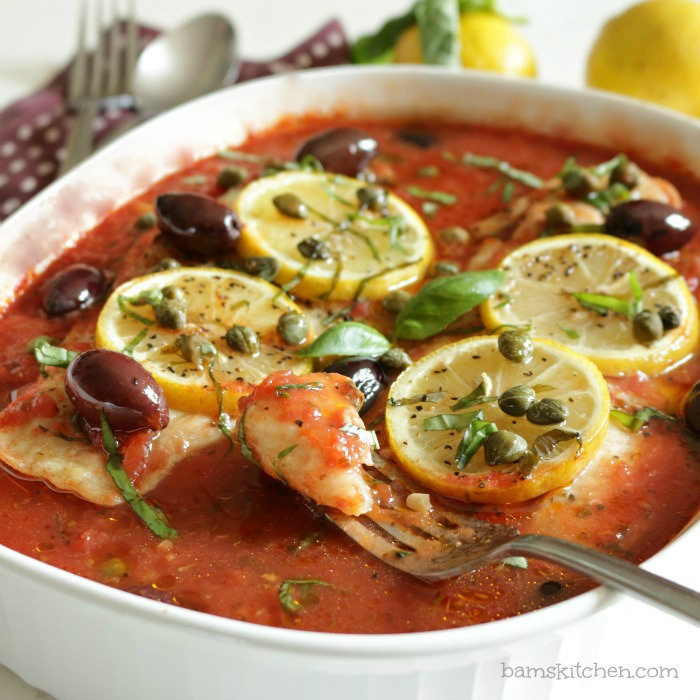 "Succulent white fish poached in a bath of fresh tomato basil sauce, kalamata olives, capers and garnished with lemon slices."
Recipe: BamsKitchen.
Baked Halibut with Sweet Potato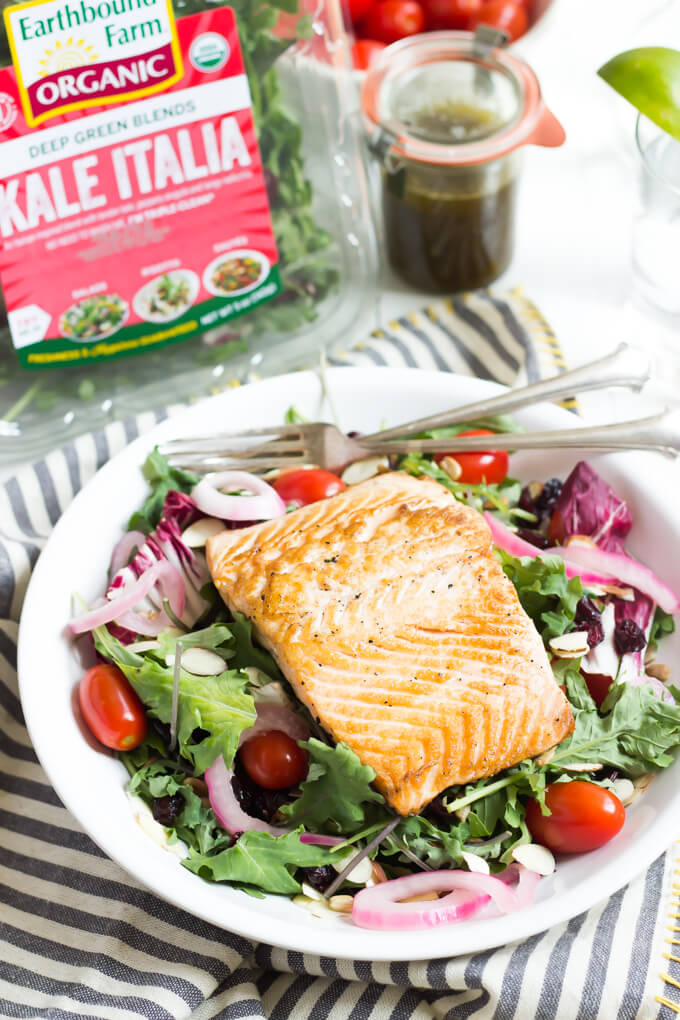 "Summer just screams salads to me. Breezy warm weather calls for light salads that aren't too heavy but are nourishing enough to actually be called a meal. No rabbit food here! Enter salmon, sunflower seeds, and almonds. This salads boasts plentiful healthy fats, omega-3's, and tons of other nutrients. I promise you'll feel ready to tackle the afternoon after this lunch!"
Recipe: WickedSpatula.
5 Ingredient Baked Coconut Curry Cod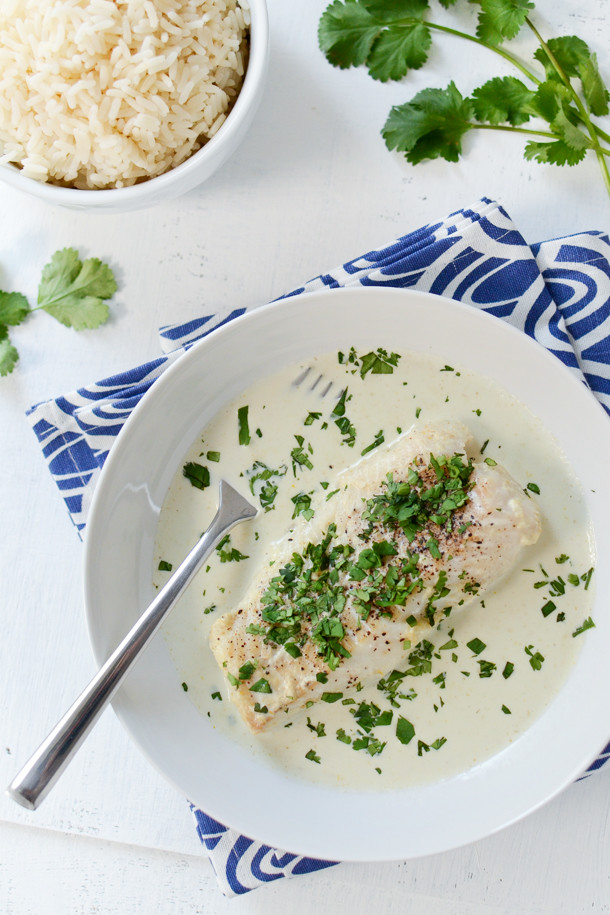 "For this baked coconut curry cod, I used green curry paste – which is the spiciest of the three, I believe. But, you could really use any kind of curry paste – green, yellow, red. You can even adjust the amount of curry paste to match your preference. I like the 2 teaspoons in this recipe because it provides just enough flavor and heat without overpowering the flavor of the coconut milk."
Recipe: SimplyWhisked.
Garlic Butter Baked Salmon in Foil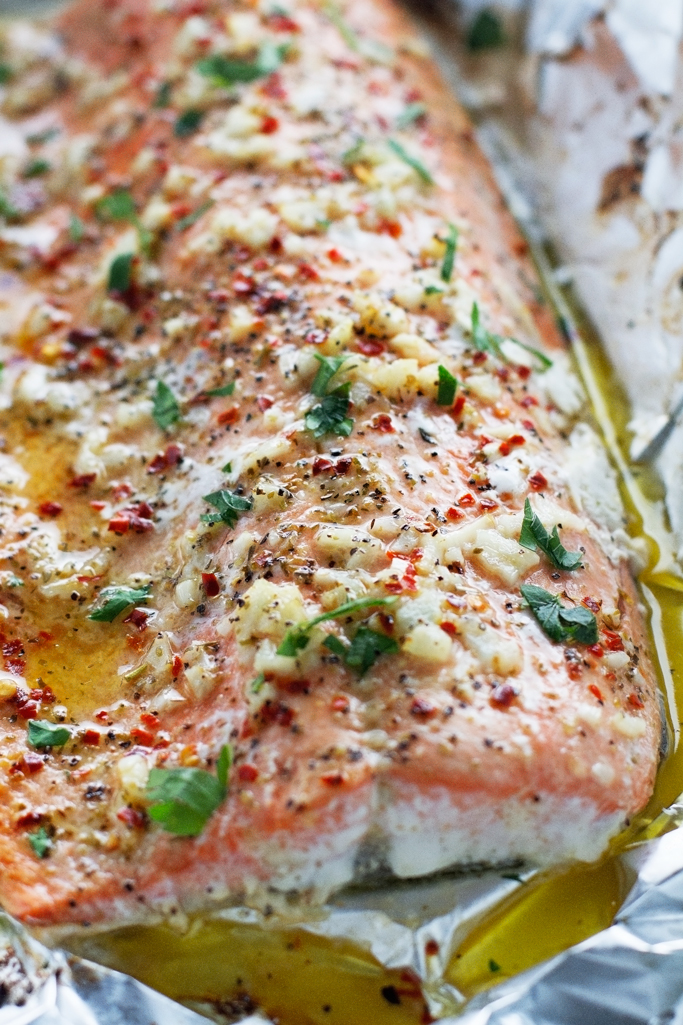 "Baked salmon in foil that's been brushed with my lemon garlic butter sauce. This recipe is so easy to make and pulls together in less than 30 minutes! The salmon is so flakey and tender when baked inside foil. You're going to love this recipe!"
Recipe: LittleSpiceJar.
Salmon Pasta with a Creamy Garlic Sauce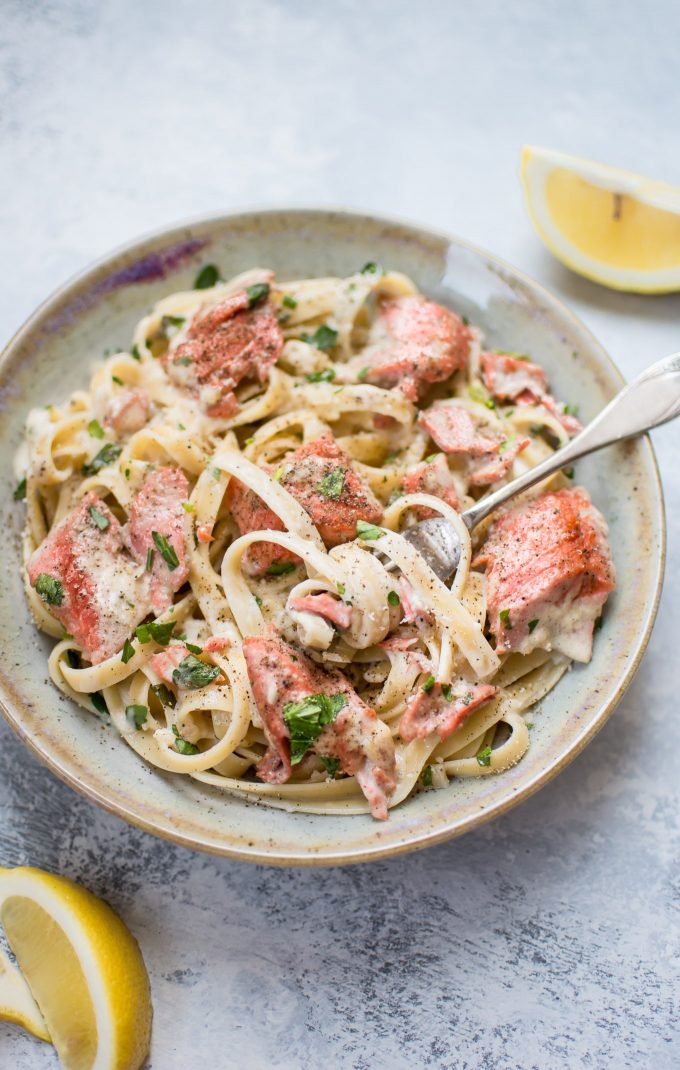 "This is one of those dishes that tastes like some effort was put in, but it's actually easy enough to make without gnawing your arm off when you're starving after a long day at work."
Recipe: SaltAndLavender
Cilantro Salt Crusted Salmon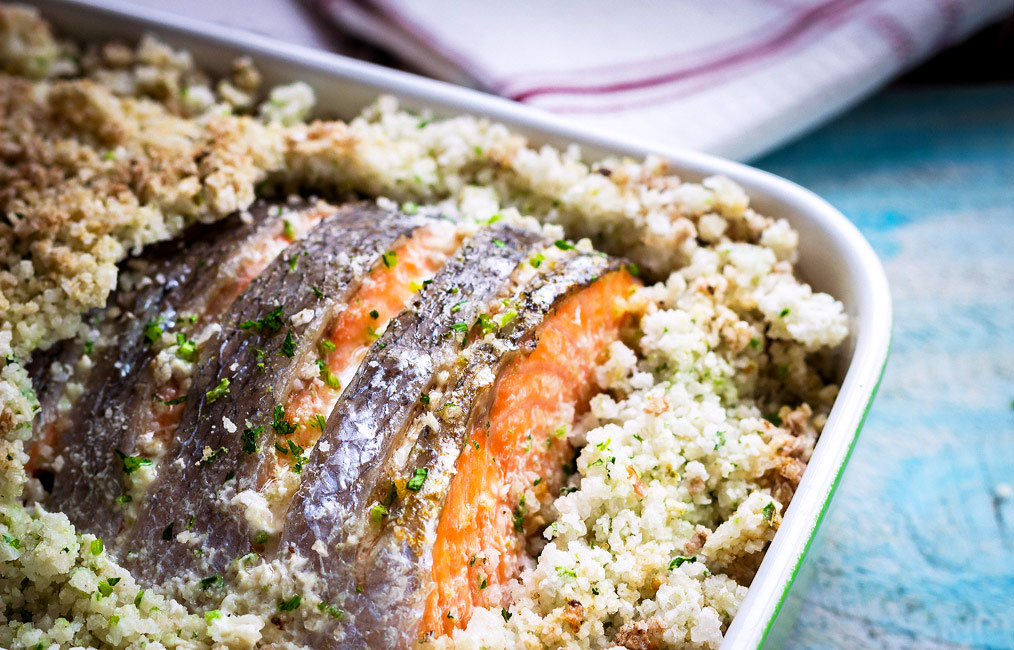 "Cilantro Salt Crusted Salmon — The Simplest, the most flavorful fish you will ever make. Depending on the thickness of fish and your oven, this crusted salmon with punchy flavors can come together in less than 15 minutes for a super elegant lunch or dinner! If you don't have salmon available, you can adapt this recipe to other fish like sea bream, bass or pollock."
Recipe: EatWell101.
5 Ingredient Tuscan Baked Fish
"This dish, while being one-pot, is actually two different methods. You're first going to make a sauce and soften the onions, and then pop the whole thing in the oven with the fish."
Recipe: SweetCsDesigns.
Salmon & Quinoa Fish Cakes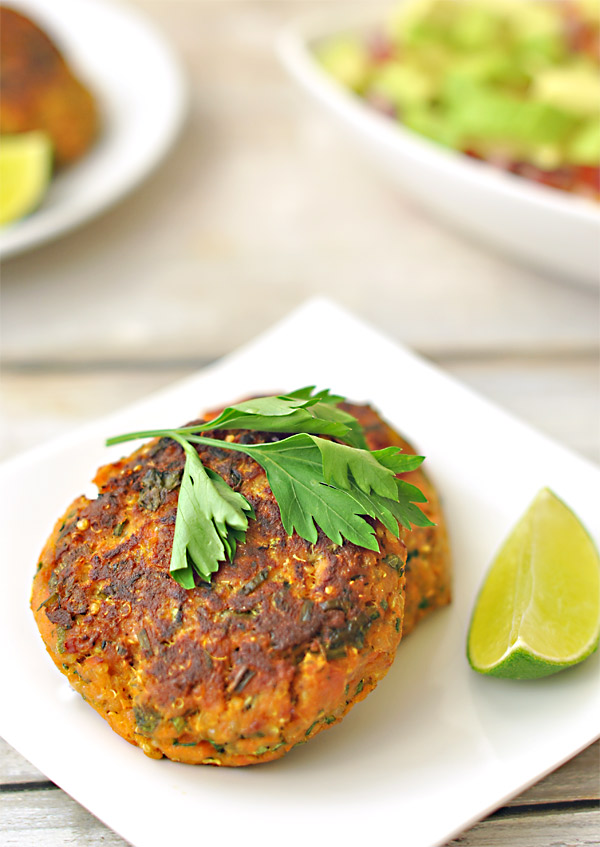 "These delicious salmon fish cakes are a healthier option by being baked rather than fried. I used tinned wild red salmon but fresh salmon would work perfectly also. I served them with a tomato, red onion and avocado salsa."
Recipe: CaseyJade.
Miso Ginger Oven Baked Salmon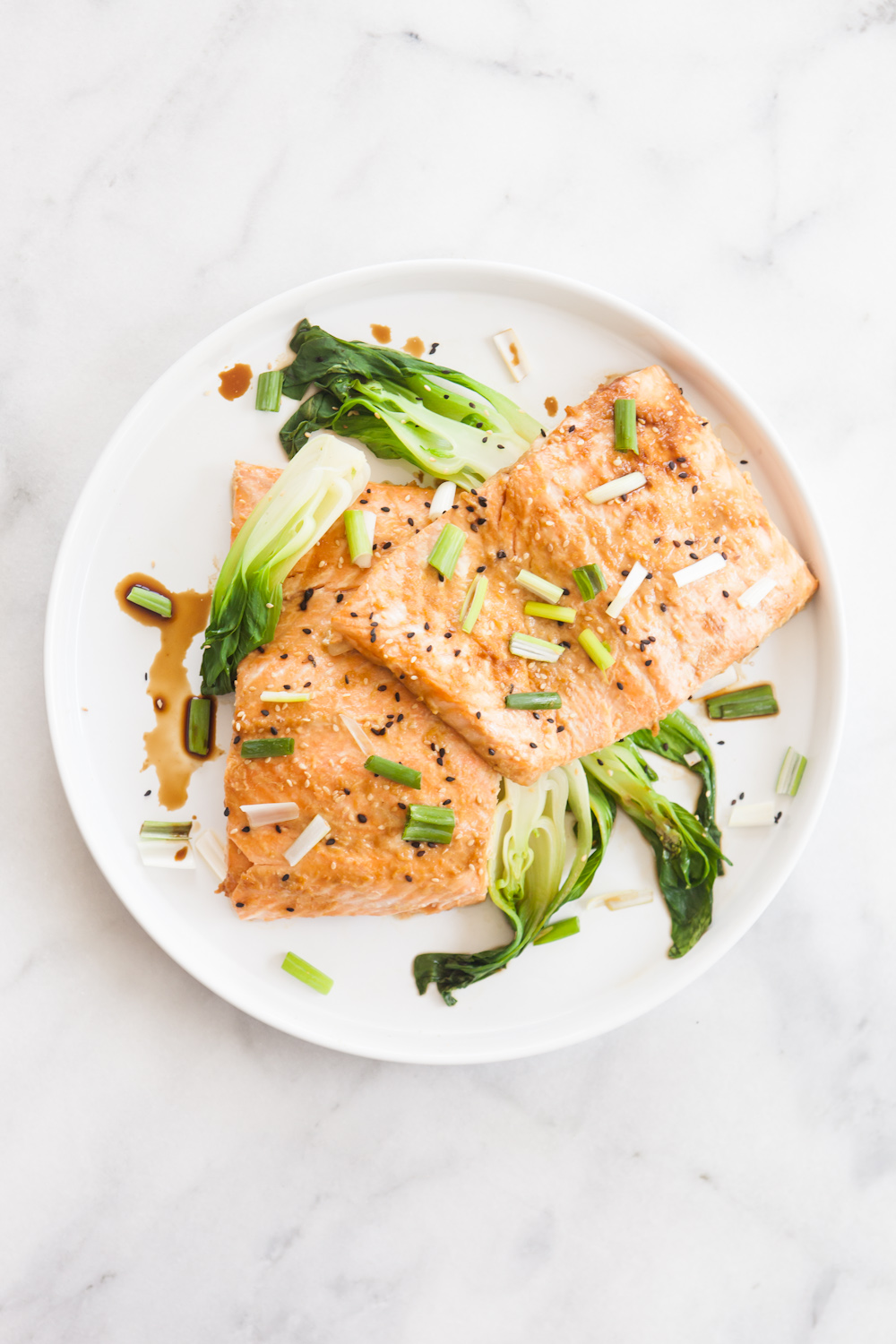 "The method for making this is really similar to this salmon recipe. I'll usually eat this with some steamed veggies like bok choi or snap peas, but it's great with rice or soba noodles too. Oh! And it's perfect for weeknight dinners—it takes five minutes flat to prep, and your oven does most of the work."
Recipe: EverydayFeasts.
Brazilian Fish Stew – Moqueca Baiana

"This stew really is quite unique. The base of the broth is coconut milk, and I tend to associate coconut with very strong, spicy flavours, like Caribbean, Thai, Malaysian and Indian food."
Recipe: RecipeTinEats.
New England Baked Haddock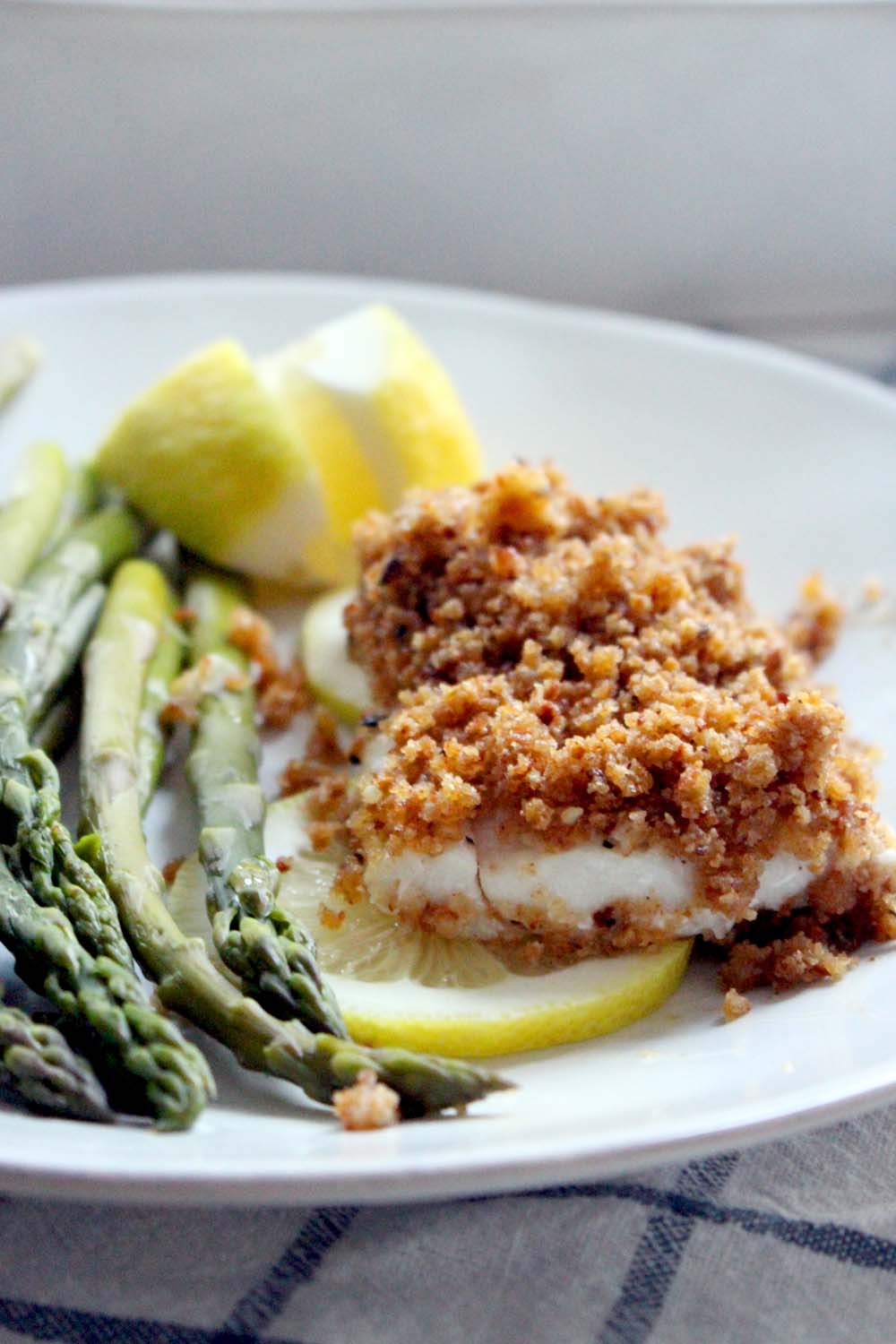 "New England baked haddock is perfect for when you want something pescetarian, but a little more soul-satisfying than your light and healthy grilled fish. It's almost like fish meets casserole. It's warm and hearty, and will satisfy even the meat lovingest of the meat lovers as a main course."
Recipe: BowlOfDelicious.
Pan Seared Salmon With Sun Dried Tomato Cream Sauce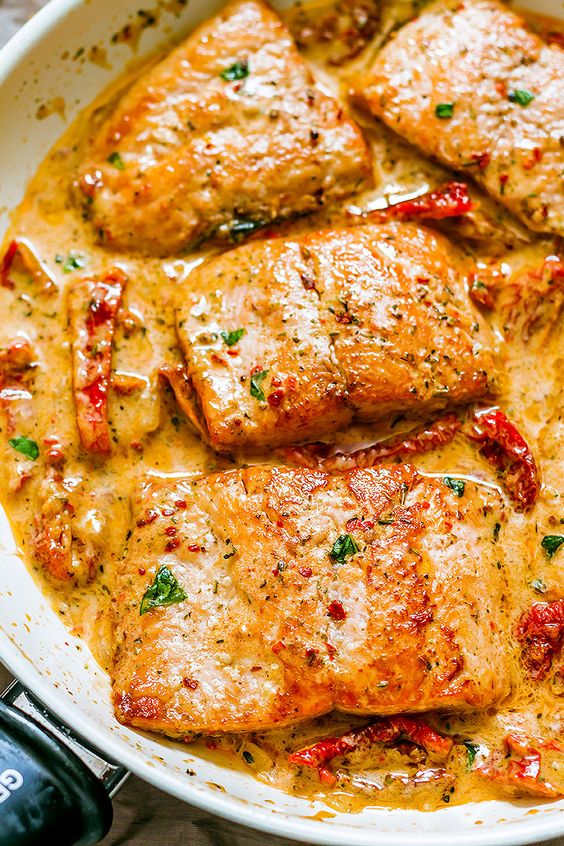 "Rich and hearty but delectably healthy, this pan-seared salmon recipe is perfect for a dinner ready in under 20 minutes. Pan fried to a flakey perfection, salmon is crispy on the outside and drenched in a creamy and super fragrant sun-dried tomato sauce."
Recipe: EatWell101.
Keto Crab Cakes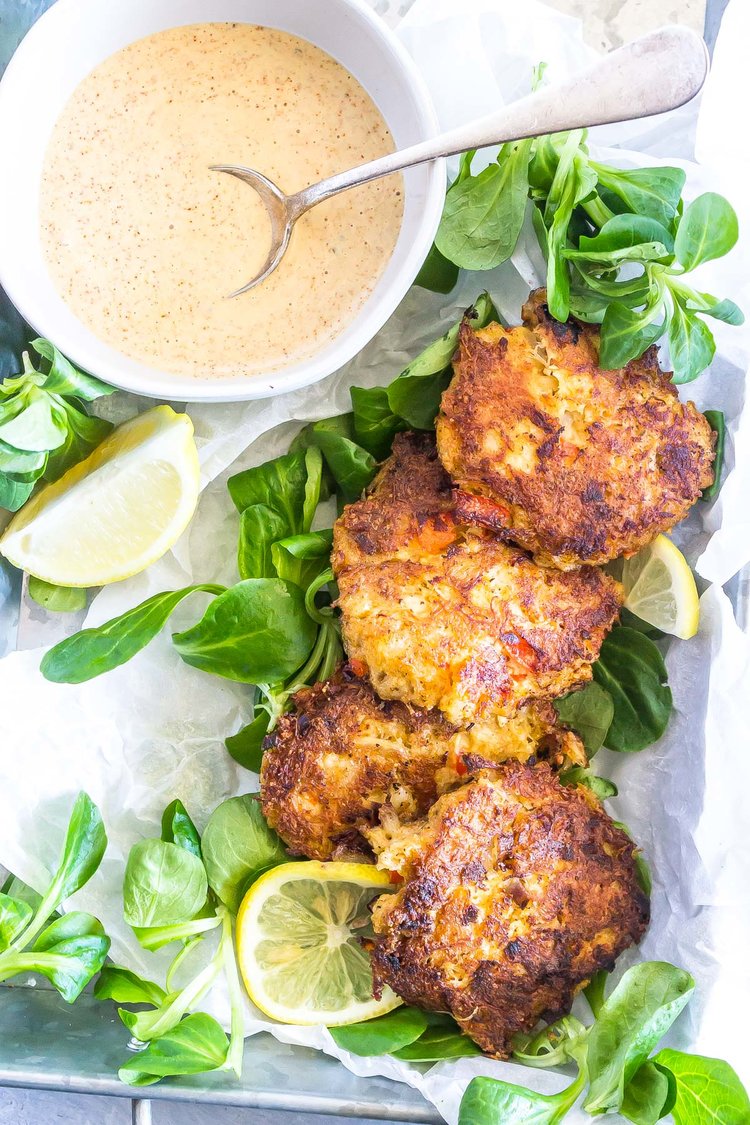 "These Keto Crab Cakes are easy to make and taste just like traditional crab cakes, don't skip the sauce!"
Recipe: CastIronKeto.