Bulletproof Coffee is an energy-booster that can dramatically increase your energy, focus and make your day super-productive. But how does it work? How can you prepare it? Do you know the Bulletproof Coffee Recipe?
It's been years since I tried Bulletproof Coffee for the first time. I heard about it from my friend who tried to convince me that mixing coffee with butter and coconut oil instead of eating my morning healthy breakfast is the way to dramatically improve my energy level and productivity.
I hesitated a bit, but finally, I decided to try it out and see what happens.
From this moment, I've been drinking Bulletproof Coffee probably every week. Not only I enjoy the taste of the coffee, but the benefits that it delivers are just amazing.
Let me explain how drinking Bulletproof Coffee changed my life.
1. What is Bulletproof Coffee?
"What the hell is that? Damn, I didn't expect such an energy-kick!"
This is what I said to myself after I drank Bulletproof Coffee (BP) for the first time.
You know, I am well aware of the placebo effect, but in this case, I can tell you – forget about the placebo effect.
Bulletproof Coffee is a super strong energy-booster. Yes, it definitely works and it'll impress you, I'm sure about that.
If you want to improve your mood, energy level and probably even your cognitive performance, you should try it out.
So, what is Bulletproof Coffee exactly? 
After I tested BP Coffee for the first time, I immediately wondered if this is something I could drink over a longer period without negative side effects.
To understand if drinking BP Coffee leaves unwanted consequences, we have to understand how it is made.
Bulletproof Coffee is simply coffee, blended with (preferably grass-fed unsalted) butter and coconut oil (or Brain Octane Oil).
I know what you are asking yourself: "Why in the hell would anyone put butter and coconut oil into the coffee?"
Well, one reason could be that it dramatically increases your energy level.
Yup, mixing caffeine and healthy fats will help you have a kick-ass start of the day.
But can you handle it?
2. Benefits of Drinking Bulletproof Coffee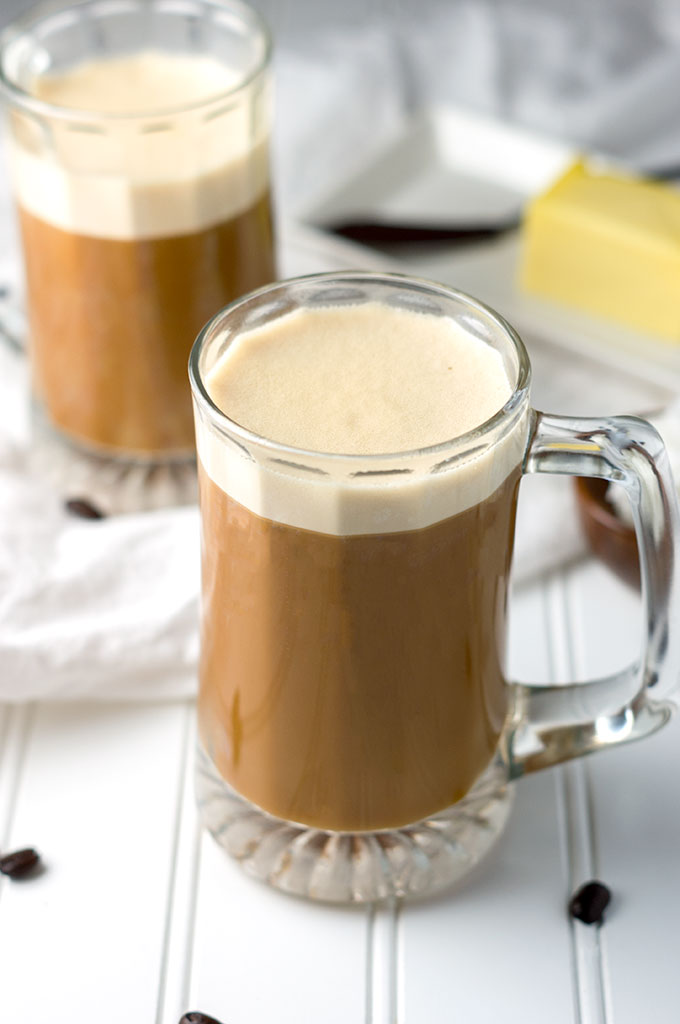 I've made my own research to understand how BP Coffee actually works. I found several articles that discuss how can butter promote brain function, while MCT (Coconut oil) promotes weight-loss.
Based on my tastes, I can confirm that if you want to lose weight with Bulletproof Coffee, you will soon see first results.
Obviously, adding caffeine (which is a central nervous system stimulant) will end up in a relatively powerful mixture of brain stimulants.
However, I couldn't find any real study showing the consequences of drinking BP Coffee every day for months or years. We're still too early for that I'm afraid.
Besides the studies (or the lack of them) I can admit that my experience with Bulletproof Coffee has definitely been fascinating.
When I drink Bulletproof Coffee, I get a huge energy kick about 10-15 minutes after I drank it. It feels somehow medium-strong (it probably depends from person to person) and it lasts for hours.
Your focus is increased, you get a lot of energy and you feel extra productive. Basically, you feel like you unlocked your limitations and nothing can stop you (you want to feel like that all the time, trust me).
The biggest advantage with drinking Bulletproof Coffee is that the effects last for hours(much longer compared to just drinking normal coffee).
In addition, the "crash" that usually comes after drinking coffee never happens. I guess that the combination of grass-fed butter and Brain Octane Oil/coconut oil/MCT oil takes care of that.
Here are main advantages of bulletproof coffee:
Suppressed hunger
Mental clarity
Steady lasting energy
Weight loss
So, here we have a powerful morning cocktail that tastes delicious and gives you a ton of energy.
But is it healthy to drink? Where is the trick? Are we missing something?
3. How Does Bulletproof Coffee work?
As you might know, coffee, in general, contains essential nutrients like B vitamins, manganese, and potassium. Coffee also has loads of antioxidants, which reduce your risk of chronic degenerative diseases and keep your brain sharp.
Drinking coffee will make your brains sharper (the brain cells can communicate faster) and improve your mood.
Now, real Bulletproof Coffee contains Grass-fed butter and Brain Octane Oil. According to Dave, "healthy fat will sustain your energy for hours, balance hormones, and boost cognitive function. With butter, you're not only getting essential fatty acids and other nutrients, it helps make the creamiest cup of coffee you'll ever have."
In addition, Brain Octane Oil is important because it raises fat-burning, brain-fueling molecules in your body called ketones. Different types of fats have different jobs. And because of Brain Octane's molecular structure, it helps you to curb your hunger, lose fat, and kick your brain into a higher gear more than generic MCT oil. It's more than 4 times as effective as plain coconut oil at raising your ketone levels, aka helping your body to run off of fat instead of sugar. This is what gives you clean-burning energy with no crash for hours at at time.
So what really happens is after you drink a cup of Bulletproof Coffee, you'll very quickly feel the effects of drinking normal coffee – improved mood and more energy. Just that with Bulletproof Coffee, the effects will be stronger and they'll last for ever.
4. Is Drinking Coffee with Butter a Good Idea? 
According to Dave, drinking Bulletproof Coffee is much better for your performance than eating your (healthy) breakfast.
If you ask me – I'd recommend drinking Bulletproof Coffee now and then, but I wouldn'tcompletely substitute it for your breakfast.
Bulletproof Coffee is a perfect "tool" to overcome your peaks. It's also a drink that quickly improves your mood and provides the necessary energy for the hard days.
What does bulletproof coffee taste like? 
Bulletproof coffee taste like a rich, creamy, and nuttier latte. It has a rich flavor with a slight touch of butter. Bulletproof coffee definitely tastes delicious, but you have to get used to the taste.
Besides, it's easy to prepare (check out the bulletproof coffee recipe below), it isn't completely unhealthy, it's a drink made out of natural compounds and it delivers on its promises.
However, I still believe that drinking Bulletproof Coffee instead of eating your morning breakfast is rather unhealthy. Mainly due to the lack of nutrients your body receives with drinking coffee. Also, caffeine is a neuro-stimulant, so taking it too much could make us dependable. It's not just the physical addiction that worries me. It's more about the lack of this super-heroic-can-do-it-all feeling that your start missing once you quit drinking this powerful morning elixir as I like to call it.
Based on the articles written about Bulletproof coffee, I couldn't find a scientific research against drinking it, but neither for it. What you can find are several stories of people who tried it out like me and shared their experience with the world. That's what we can rely on.
So if your diet is balanced and you live a (more or less) healthy lifestyle, drinking Bulletproof Coffee on a weekly basis should leave no negative side-effects.
BUT be careful – there'll be tons of energy you will get. So make sure you'll smartly use it.
YES to drinking Bulletproof Coffee, but just don't do it every day.
It has antioxidants
Antioxidants help fight free radicals. Free radicals are harmful because they can cause cancer and other diseases. Antioxidants are your friend.
This coffee is loaded with antioxidants. In fact, one study showed that coffee beat tea, fruits, vegetables, cereals, and wine in terms of antioxidant content.