When it comes to counting calories and struggling with weight, celebrities are just like the rest of us as the demands of Hollywood to stay thin and fit often go hand-in-hand with the staying power of one's career. So you're probably wondering, which celebrities have struggled the most with their weight over the years and which ones have seen complete transformations? Here are some of the best celebrity weight loss transformations that are sure to shock you and give you the much needed motivation.
Zach Galifianakis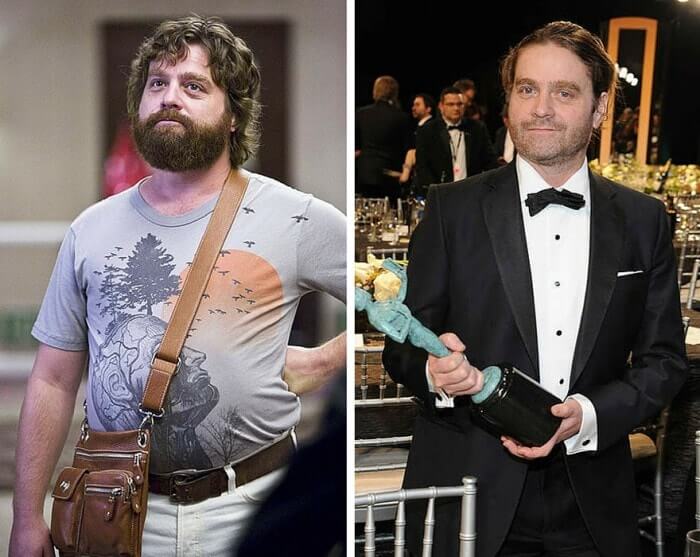 Zach Galifianakis showed off his new slim figure at the 2017 Emmys. The Hangover star surprised people at the 2015 SAG awards by debuting his dramatic weight loss. At the October 2014 premiere for Birdman, it appeared Galifianakis had lost about 50 pounds, which he said was due to cutting out alcohol in 2012. But it was clear that the actor had lost even more by early 2015. "I was having a lot of vodka with sausage. Delicious but bad for you," he told E!. Zach has certainly kept the pounds off over the years. Good for him!
John Goodman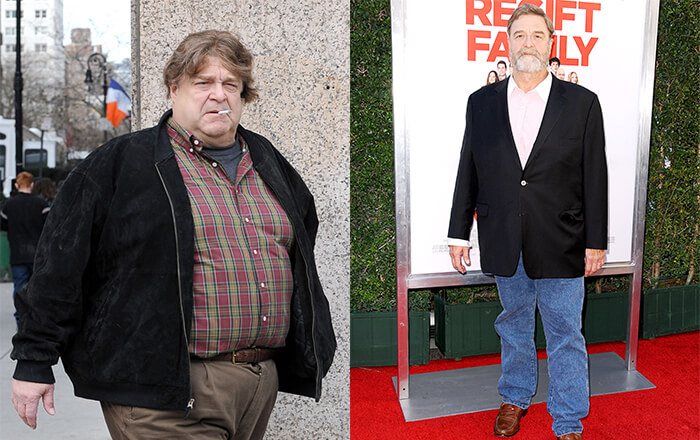 When John Goodman stepped out on the red carpet for the Trumbo premiere, fans were shocked at the 66-year-old's weight loss. A far cry from his heaviest, when he weight 400lb, the actor – who voiced Sully in Monsters Inc – looked trim, healthy, and happy. But it has now been revealed that his weight loss was not down to a crash diet or fad healthy eating tip.
Speaking to The New York Post, fitness trainer Mackie Shilstone explained that the results were achieved gradually and safely with a "Mediterranean-style eating plan", which focuses on eating fish, olive oil, avocado, vegetables and fruit.
Ricki Lake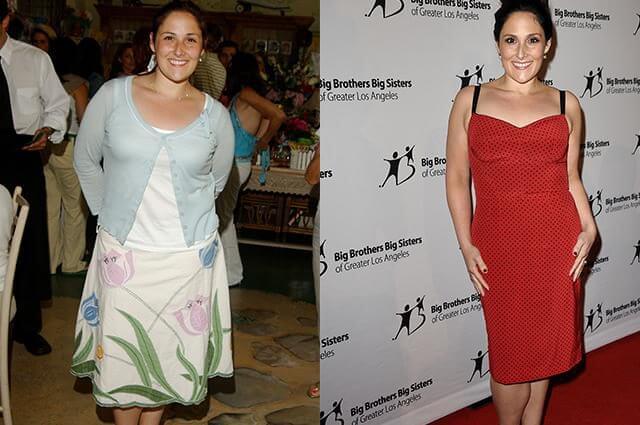 Actress and TV host Ricki Lake struggled for years with her weight in the public eye. After successfully losing 140 pounds (and keeping it off for 15 years), she said that the key is to eat healthy and sleep eight hours each night. Now that she's a size 6, she limits her calories to 1400 per day responsibly with a membership to a fresh-food delivery service. In 2011, she also added dance to her fitness routine as a contestant on Dancing With the Stars.
Chris Hemsworth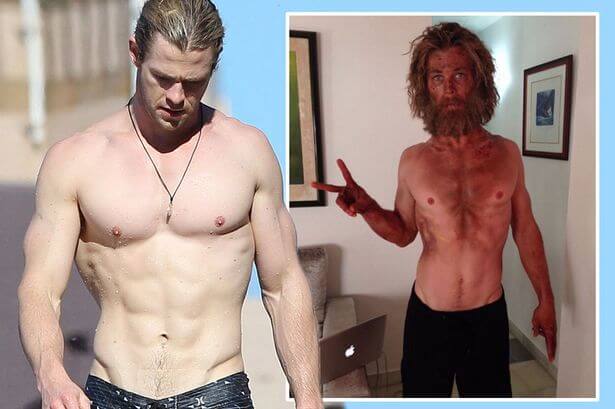 Chris Hemsworth didn't always have the "Thor" physique but once he was able to pack of 30 pounds of muscle it was presumed that he needed to play the character for the next two parts: Avengers and Thor: The Dark World. He was not out of shape before, in fact he was more of the cut up lean figure, but how does someone go from skinny guy to the cape wearing hammer throwing muscle bound superhero?
[Related: Gwilym Pugh: Overweight Businessman To Top Model Working With David Beckham]
Melissa McCarthy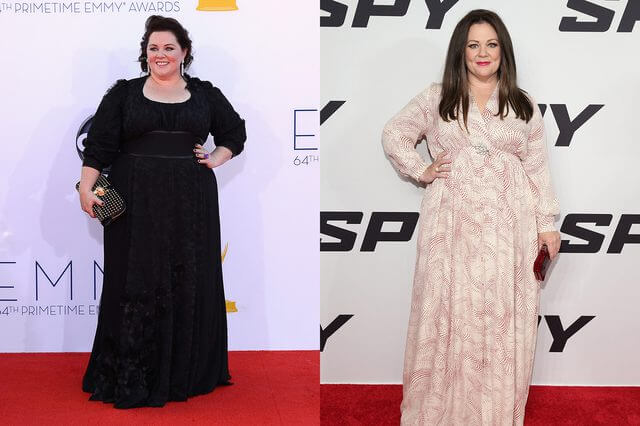 McCarthy's secret to slimming down is one we can all take to heart: Chill out and stop worrying about it. "I truly stopped worrying about it," she told People magazine while promoting her 2015 film Spy and clothing line, Seven7. "I stopped over-analyzing, over-thinking, over-doing anything… I think there's something to kinda loosening up and not being so nervous and rigid about it that, bizarrely, has worked."
Kelly Osbourne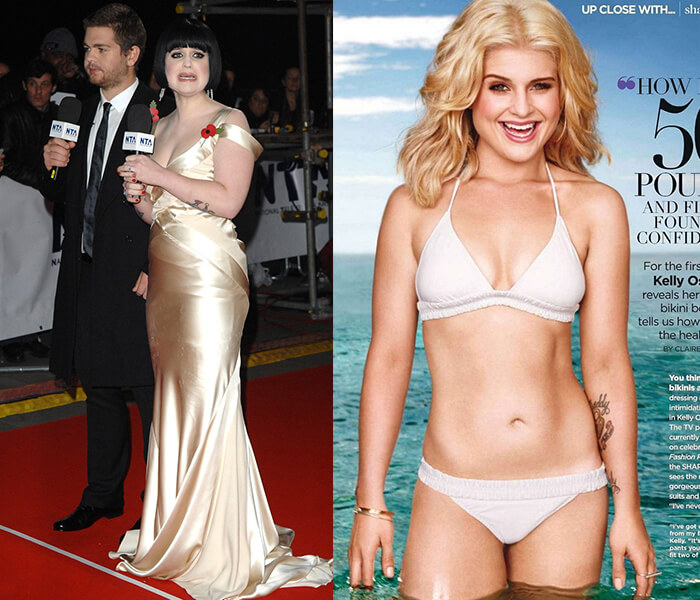 Kelly has gone through some serious changes over these recent years. During and after her stint on Dancing with the Stars, Kelly Osbourne dropped 70 pounds, and she is now looking better than ever. Osbourne acknowledged and quit her emotional eating habits while working out to shed the extra weight. Her trainer, Sarah Hagaman, told Shape magazine that to prevent boredom and target several muscles at once, Kelly does a variety of strength moves on a Power Plate and Bosu. Hagaman also said that mixing in cardio between sets keeps the calorie burn high.
Seth Rogen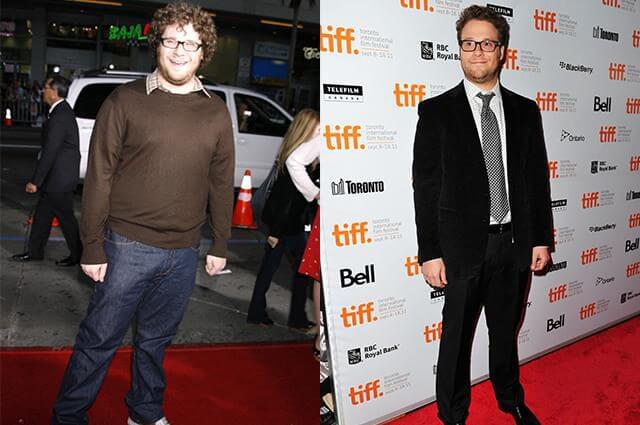 Funny guy Seth Rogan became popular from his role in the movie Knocked Up, and significantly slimmed down in years following. Rogan's secret? Working out with celebrity trainer Harley Pasternak and the 5-Factor Diet. Rogen lost over 30 pounds in just nine months to star in the The Green Hornet, and he seems to have been able to keep the weight off even while filming and promoting The Interview with James Franco.
Snooki (Nicole Polizzi)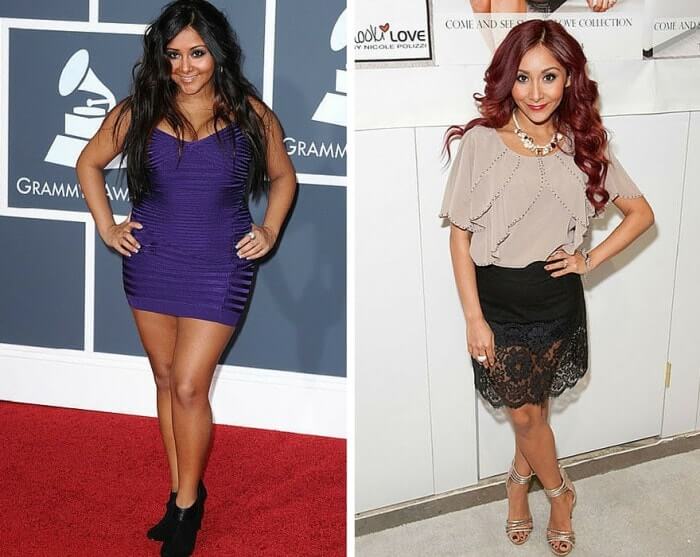 The reality TV star from MTV's The Jersey Shore lost 40 pounds only six months after giving birth to her first child. The secret? Determination and dedication, according to Polizzi. She said that if you want to look trim, you will. Polizzi works out daily with a trainer and eats healthy foods to maintain her weight loss. After the 2014 birth of her daughter, Polizzi lost no time getting back into the gym, posting an Instagram picture from a TRX session as proof.
"Even though I want to be healthy for myself and it feels great to be healthy, I mainly want to do it for my kids," Polizzi said. "I just really want to be a fit mom. I want to be able to keep up with them, run after them."
Christina Aguilera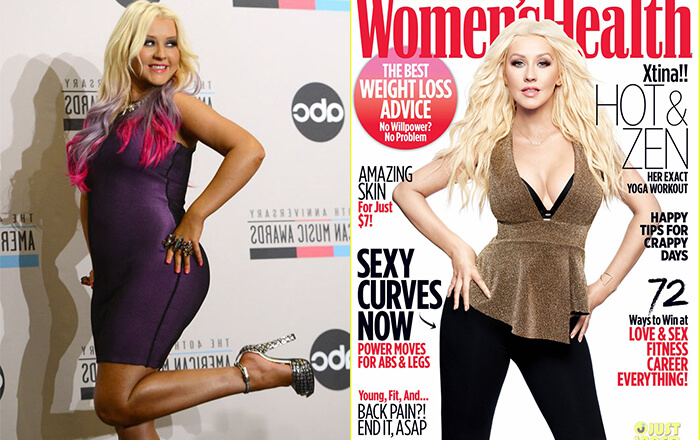 The singer and former vocal coach on NBC's The Voice is no stranger to the ups and downs of weight, especially after two pregnancies. After the birth of her daughter, Summer Rain, Aguilera shed nearly 50 pounds by limiting alcohol and replacing unhealthy restaurant food with lean protein like chicken and shrimp. But the mother of two also keeps is real. She told Maxim in 2013, "If I can squeeze in a workout, great. If not, that's OK, too."
Chris Pratt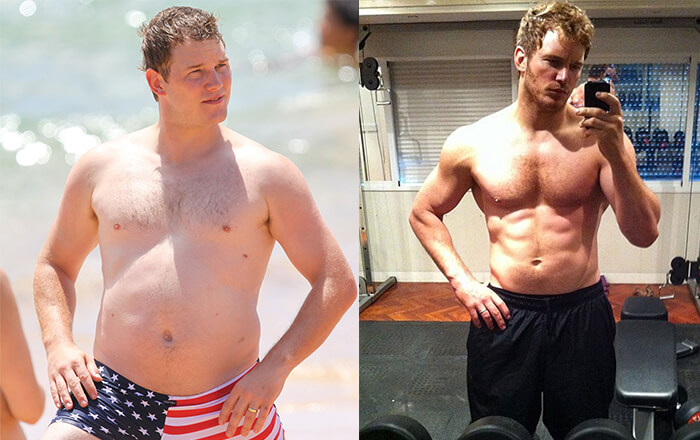 The Parks and Rec actor shed 60 pounds in six months for his role in Jurassic World by working out with personal trainer Duffy Gaver and sticking to a diet plan from nutritionist Phil Goglia. Pratt also famously posted a shirtless selfie (complete with six-pack abs) in 2014 with the caption, "Six months no beer. #GOTG Kinda douchy to post this but my brother made me."
[Related:Chris Pratt Workout And Diet: Get Guardian Fit]
Jessica Simpson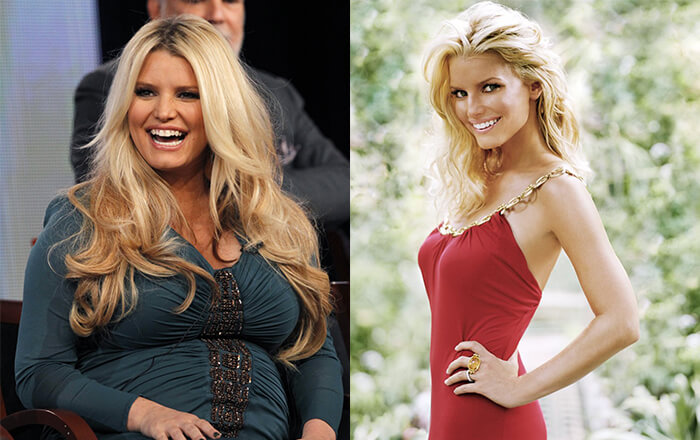 At times it's hard to remember how Jessica Simpson became famous. In recent years, most of the focus on Simpson has been around her weight before, during and after pregnancy. After her first baby, Simpson dropped 50 pounds and became a spokesperson for Weight Watchers. Simpson said that during her pregnancy she wasn't very careful with what she ate, but that she learned the lesson the second time around. The new mom said that she loves smoothies and fruit, and that being healthy is just a way of life for her now.
Kim Kardashian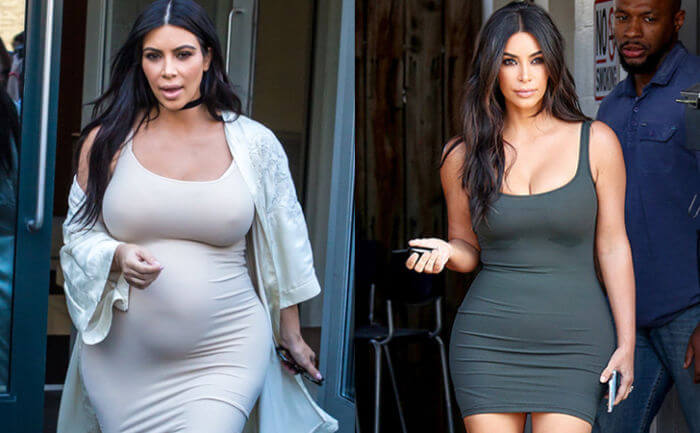 Kim Kardashian did not always have a big butt, which people seem to love her for. When she was pregnant with Kanye's children, she put on a good amount of weight, but she quickly lost the baby weight and went back to looking stunning, as did a lot of these celebrities.
Drew Carey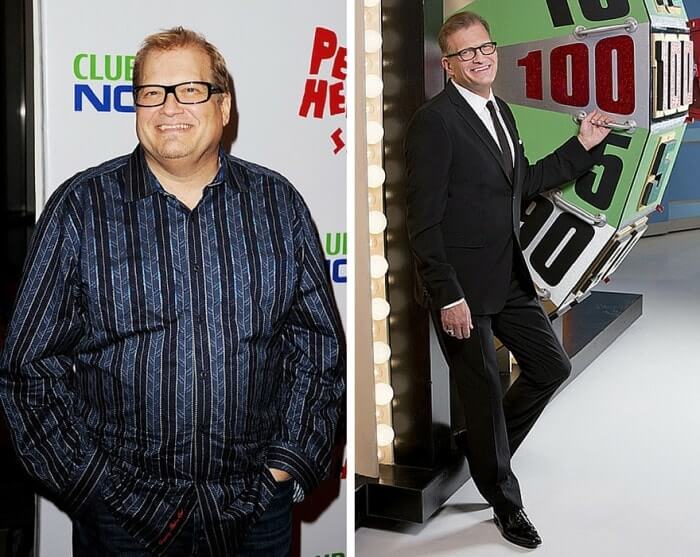 Comedian and TV star Drew Carey lost an astounding 80 pounds after his weight became a major health issue — type 2 diabetes. "The Price is Right" host now maintains a rigid cardio routine six times a week and eats a high-protein diet, packed with fruits and veggies. In the mornings, Carey's usual breakfast consists of egg whites or Greek yogurt with fresh fruit. The best news: He told People magazine that he no longer needs medication for his type 2 diabetes.
50 Cent
As The Huffington Post reported, rapper 50 Cent decided to undo his permanent ink choice a few years back because he wanted to be an actor.
"It cuts down on the amount of time I have to spend in makeup covering them up," 50 Cent said about his decision, as quoted by the source.
People magazine reported that his then-upcoming roles in "Twelve" and "Things Fall Apart" spurred the ultimate choice to rid himself of some of his arm tatts. Still, he has no plans of removing his giant back piece.
[Related: This Man Lost 70 Pounds and Now Looks Like A Disney Prince! The Internet Is Going Crazy!!!]
Jonah Hill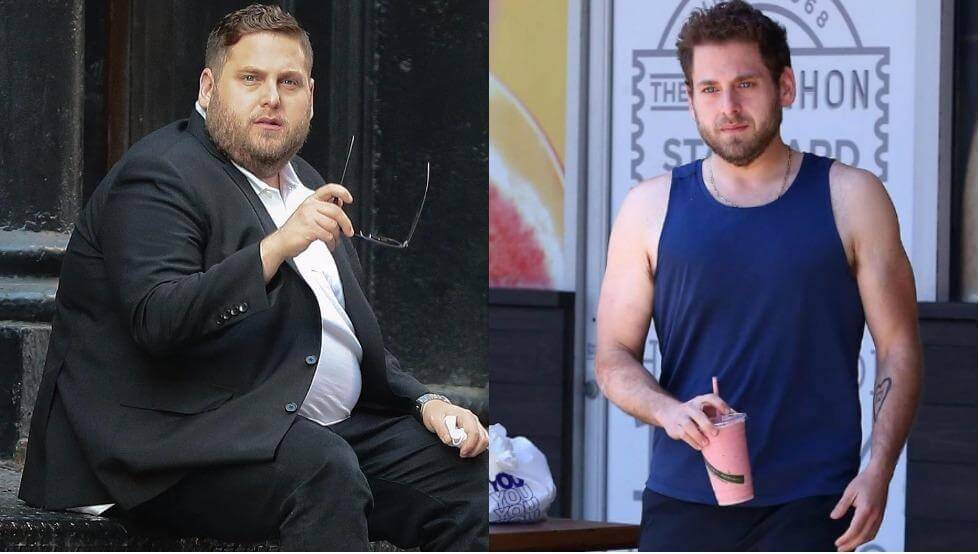 Hollywood funnyman, Jonah Hill seems to have cut down to half his size. The dramatic weight loss comes after Hill gained weight for his War Dogs movie role. Speaking to Jimmy Fallon on The Tonight Show, Hill said he wanted to get into shape after the movie so he phoned fellow actor friend Channing Tatum and asked "Hey, if I eat less and go to a trainer, will I get in better shape?" As can be seen in the pictures below, the actor has ditched the belly and has bulked up significantly with evidently more muscular arms.