Laura Micetich, a twenty-seven year-old teacher from Los Angeles, California, grew up knowing she was chubby. She describes her early family life as close and "health-conscious." Her family ate dinner together each night, and she had to run just to keep up with her incredibly active little brother. She spent her days being active outside, surrounded by nature in her Jackson, Tennessee family homestead. Even still, she was chubby.

Laura had always had a fondness for good foods, preferring more sophisticated foods to standard kid-friendly fare like chicken fingers and fries. Yet her love of food soon spiraled out of control, and by the time she was a teenager, she was secretly binging on cookies and candy she hoarded in her bedroom.

"I became increasingly aware of my size in middle school," Laura explained. "I'd grown up participating in many sports: competitive swimming and horseback riding, soccer, basketball, tennis, cheerleading. You name it, I tried it. I loved competition… but I hated cardio."
Not only was I heavier than many of the girls at school and on my teams, but I was taller, looming over them at almost six feet before the end of middle school. Needless to say, I stuck out like a sore thumb and I knew it.

By the time she was in high school, Laura's distaste for cardio, plus her frequent trips to the refrigerator, caused her to lose her spot on the school soccer team. That was a turning point, and Laura decided to go to a camp geared towards helping people lose weight.
"For the first time in my life, I felt surrounded by peers – heavy kids who struggled with the same issues I did. I spent those months learning about nutrition and health, playing every sport I could get my hands on, and participating in every hike, run, and activity I was offered.

That summer, I also had my first encounter with weightlifting. I learned that my size, while socially unacceptable, also made me incredibly strong. I came back from camp with a newfound love of health and fitness; however, as summer faded, so did my resolve."
[Related: Harshi Suraweera's Tremendous 42KGS Transformation and That Too in Just 10 Months!]

Laura didn't realize it at the time, but her experience at "fat camp" was the beginning of a lifelong cycle of finding a passion for exercise, only to lose interest and watch the pounds pile back on. In college, she fell victim to the "freshman 15" even more than most students, and soon she found herself morbidly obese and contemplating weight loss surgery as her last resort.

Instagram
As Laura researched weight loss surgery options, she had an epiphany. Even if she underwent a risky surgery, the process demanded an extreme change in lifestyle that up until then, she'd been unwilling to make. There was no panacea — she was going to have to work for it.
This sudden realization changed Laura's life. She made a promise to herself to end the cycle of destruction she'd set. She began by simply forcing herself to make healthier choices, one day at a time.
"That April, I gave myself a challenge – thirty days of increased activity and a healthy diet. No binging. No skipping. No cheating. For thirty days. I started at my university gym with a very simple system: lift weights for a specific body part for as long as you'd like and then do about 20 minutes of low intensity cardio. Walk on the treadmill at an incline, use the elliptical, ride the bike."

Combined with a healthier diet that focused on lean proteins, leafy greens, healthy fats, and plant-based carbohydrates, Laura saw the pounds begin to melt away. She didn't share her goals with anyone right away, but as she started to get healthier, she began to chronicle her journey on Instagram using the moniker "The Iron Giantess."
"I loved every moment of it. In that first month, my aches and pains reduced substantially, I was no longer out of breath after climbing a flight of stairs, and I felt better than I had in years. It only took a few weeks to realize I didn't need to go under the knife. I needed to get under the bar."

[See Also: Deepthi Vasishta's Fitness Journey: Lost 30 lbs With a 9% Loss In Body Fat.]
Laura continued to work out, also focusing on a healthy mindset and speaking kindly to herself. Soon, her online following had taken off, and thousands of people were flocking to her page to admire her progress and ask her for tips and advice for their own good health.

One year later, Laura had lost 100 pounds, finished her teaching degree, and had fallen in love with fitness and health.
"That summer, coming full circle from the defeated kid at fat camp, I stopped training to lose weight and started training because I loved it."

Now, Laura is down 115 pounds and has refocused her life to include being fit and healthy, and teaching others to do the same. She's also a proponent of projecting a positive body image for young girls, joining a modeling agency in L.A. that's devoted to breaking the stereotype of skinny girls vs. fat girls.

Laura's story is proof positive that weight loss starts in the brain! With self-love and hard work, anything is possible.
Laura's Sample Weekly Workout Routine: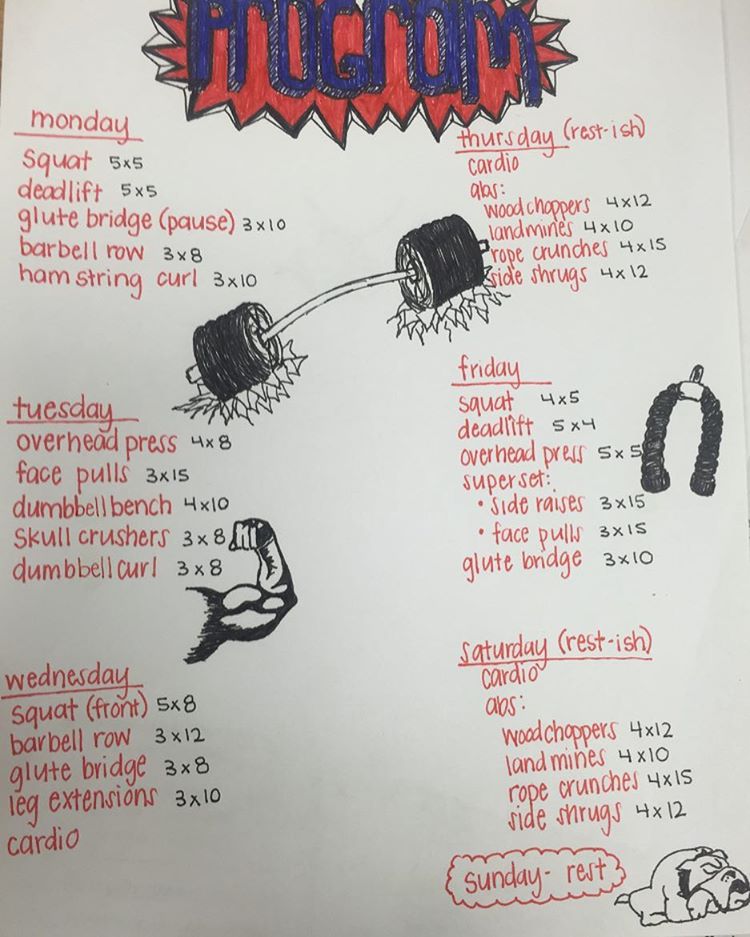 Please share this inspiring story for others who might need this important reminder.